Benefits of the Enrichment Programs
Strengthen Academic Skills, Maximize Potential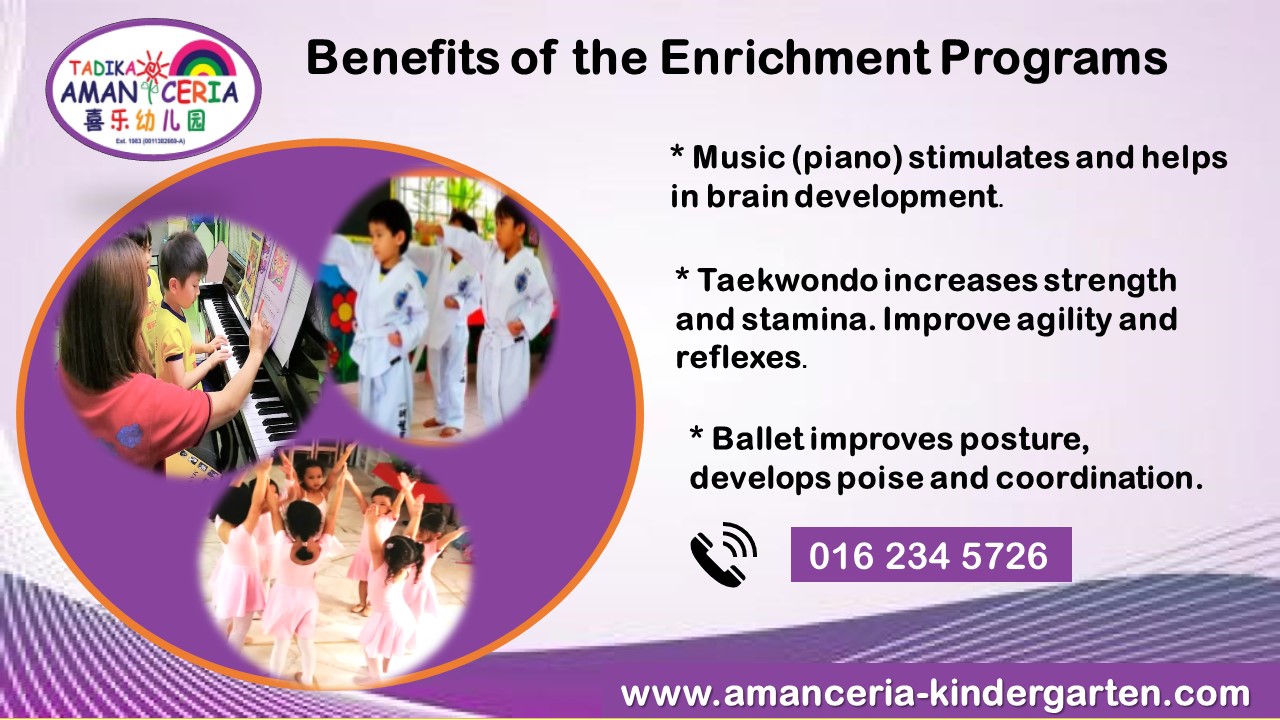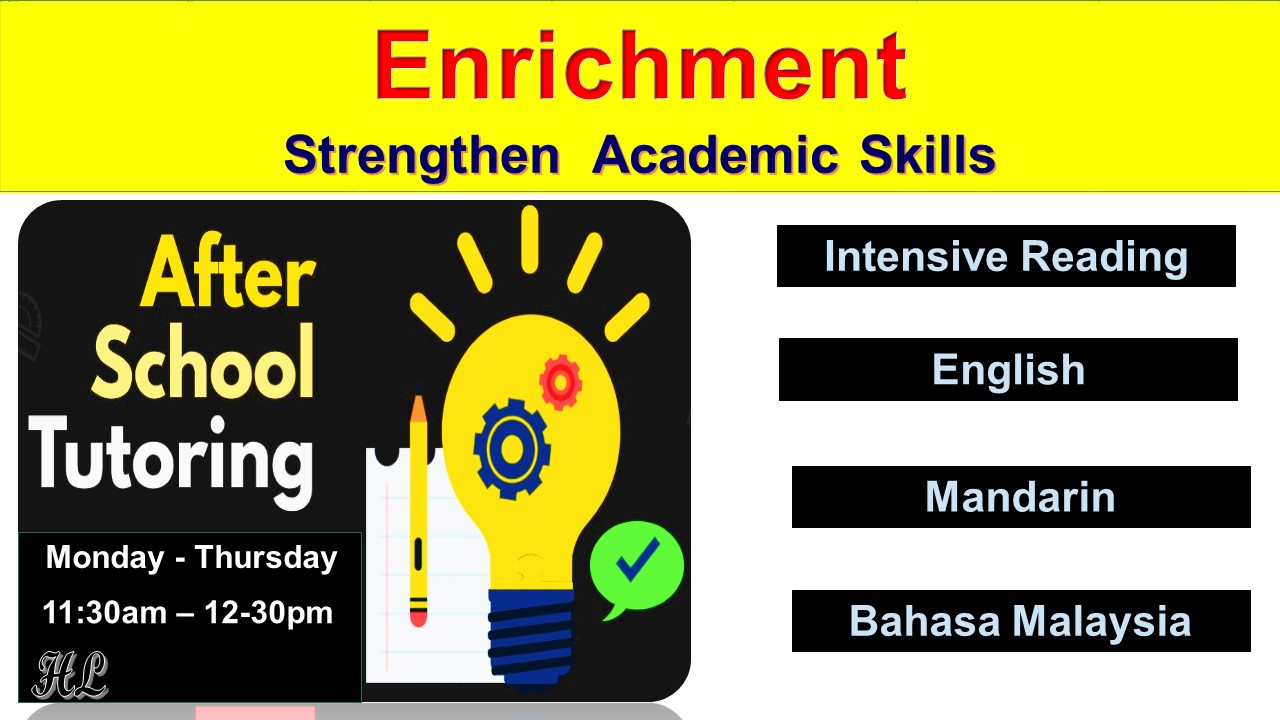 Enrichment Program unleash children's hidden potential


• Choosing an enrichment program that works well for your children is important. There is possibility to discover talents that children may not have known they possessed.
• Enrichment programs maximize potential, offer added experiences that support and strengthen children's academic skills, fostering a lifetime love of learning.
• Small class size, personalized experience, individual attention, children can quickly gain new skills that are vital for future success in school and life.
• School children benefit from tutoring and enrichment programs. There are many different types of enrichment program available such as...

Mastering English, Bahasa Malaysia, Mandarin
Learning languages sharpen children's reading skills.
Promote self-confidence and competence in English, B. Malaysia, Mandarin languages.
The goal is to achieve a high level of proficiency in listening, speaking, and writing.


Intensive Reading Class

English, Mandarin (汉语拼音) & Bahasa Malaysia

• The language and communication skills ability to understand others, and express oneself, learning through games, songs, stories and activities while having fun with the teachers and friends.


• New Phonics Series: Systematic approach to teaching phonics, combined with lots of real reading practices. Letter-Sound Recognition, Word building, Sight Reading, Rhyming Words, Communication, Comprehension


• Audio visual contents and flash cards are used to improve children' visual sense. This allows them to understand easily, in order to cultivate concentration and memory.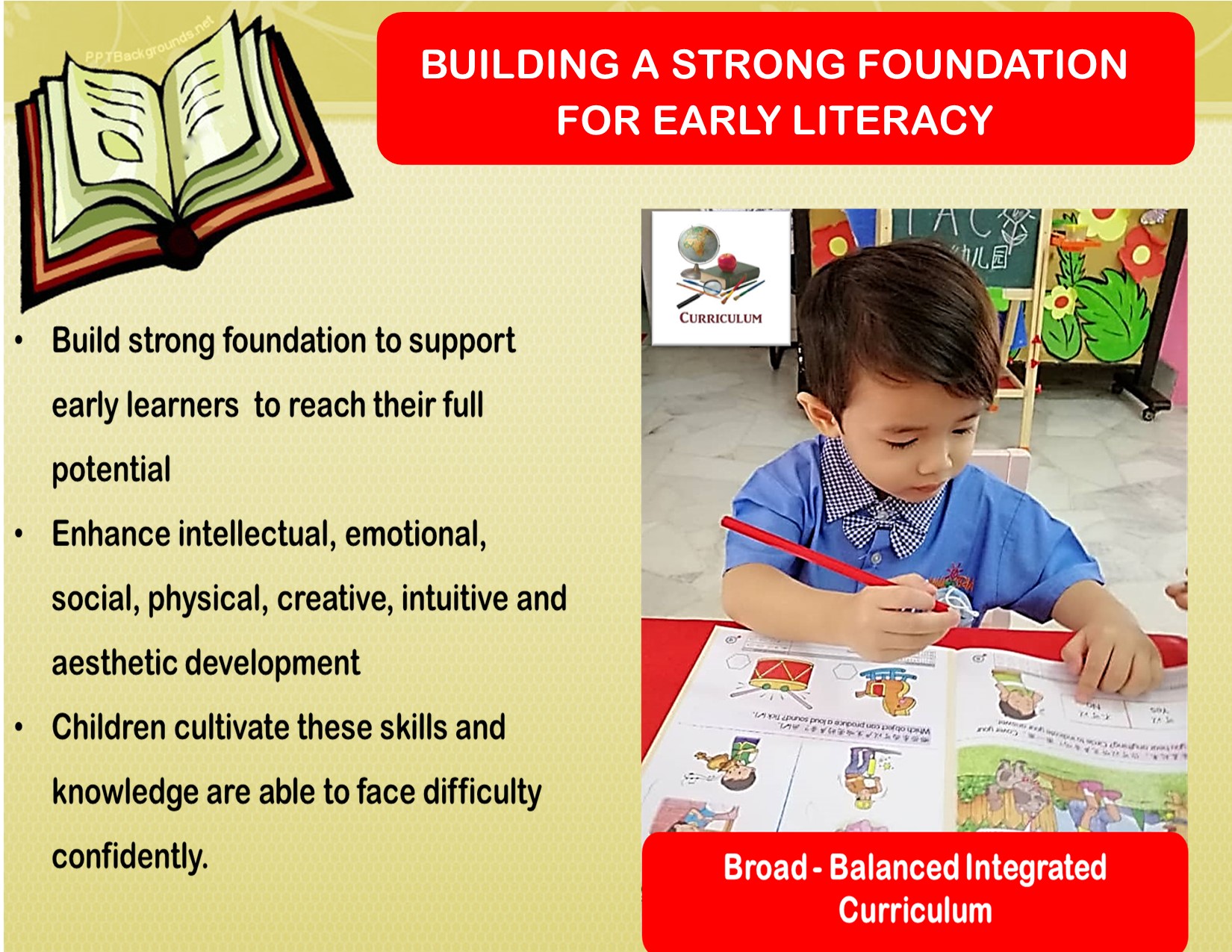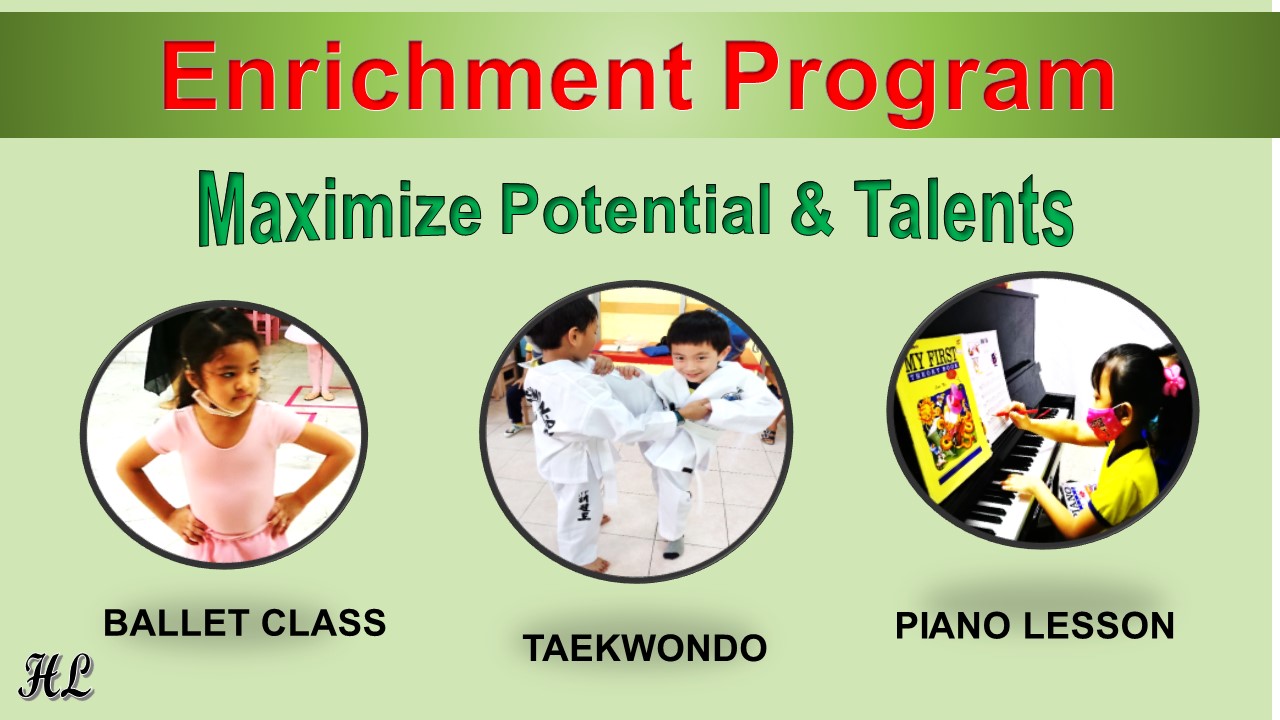 Enrichment Program - enhance your child's talents and creativity with ballet, dance, art, drama, music, hands-on science experiments...

• STEAM Integrated & Interactive program- promotes the development of your child through the mastery of knowledge, skills, and values ...

• Accelerated Brain-Integrated Learning (mind maps)- promotes learning at a faster rate, increase the ability to retrieve and use information

• Multiple Intelligence Learning - helps your child understands his/her own abilities, and allows to use different skills and strengths

• Multimedia Technology - your child sees, hears, imagines... as multimedia is used to bring the subjects to life.

• Creative Expression - encourage your child to express in creative ways through singing, dancing, storytelling, drama, and art...

• Character Education & Team Building - self-awareness and respect for others is emphasized. Topics on fairness, honesty, kindness...

• Health & Physical Well-Being - support your child's emotional, social mental, physical well-being in our safe and holistic environment.

• Holiday Adventure Fun Camps - designed to improve your child's social skills and the exposure to new ideas and concepts.

Ballet Class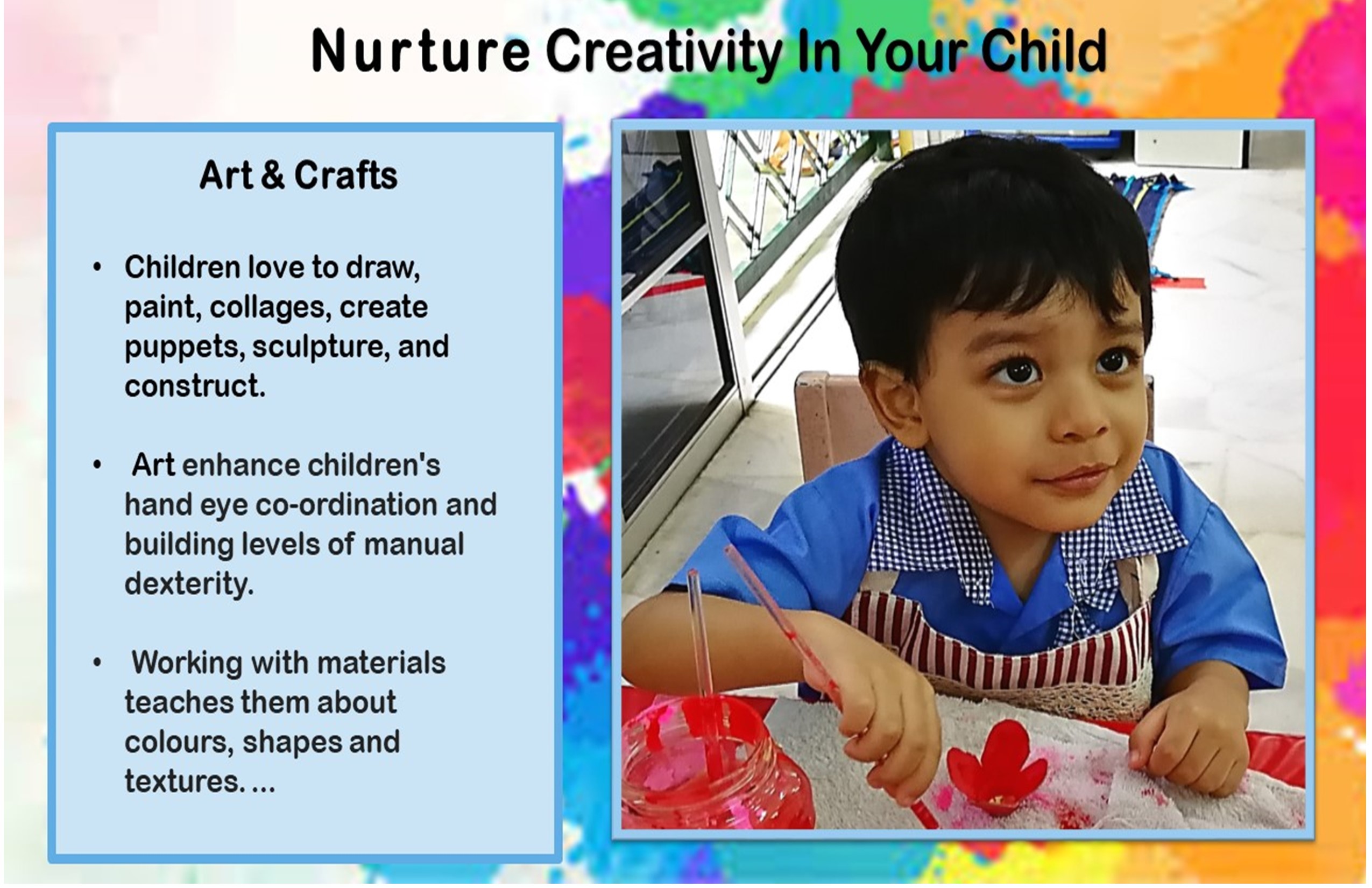 Ballet is a truly creative experience that benefits the children's coordination, musicality, and expressiveness. Ballet introduces structure and discipline in the young dancers.
Ballet is a graceful and structured dance. It improves posture, develops poise and coordination. Control of the body, achieve through the discipline of ballet techniques.

Expressive quality of movement is achieved as well as body toning and muscle development and above all enjoyment.
Interacting with other children in this fun environment will also help develop their social skills and greatly improve their confidence.Ballet introduces structure and discipline in the young dancer
Creative Expression

• Music education is beneficial, stimulates and helps in brain development.
• Fostering creativity, imagination, language and movement development.
• Skills at each level include; play and recognize musical notes. Children are able to understand musical terms and symbols...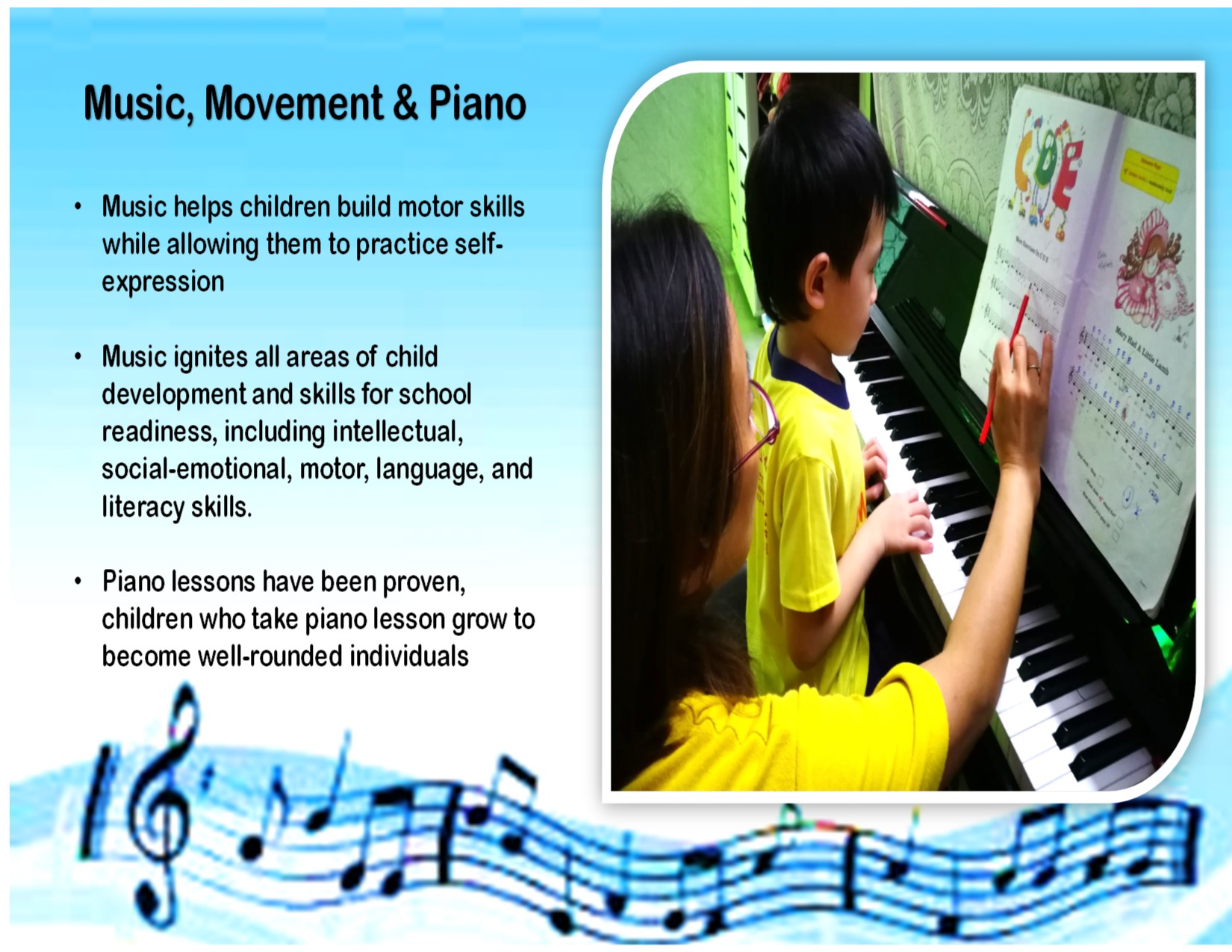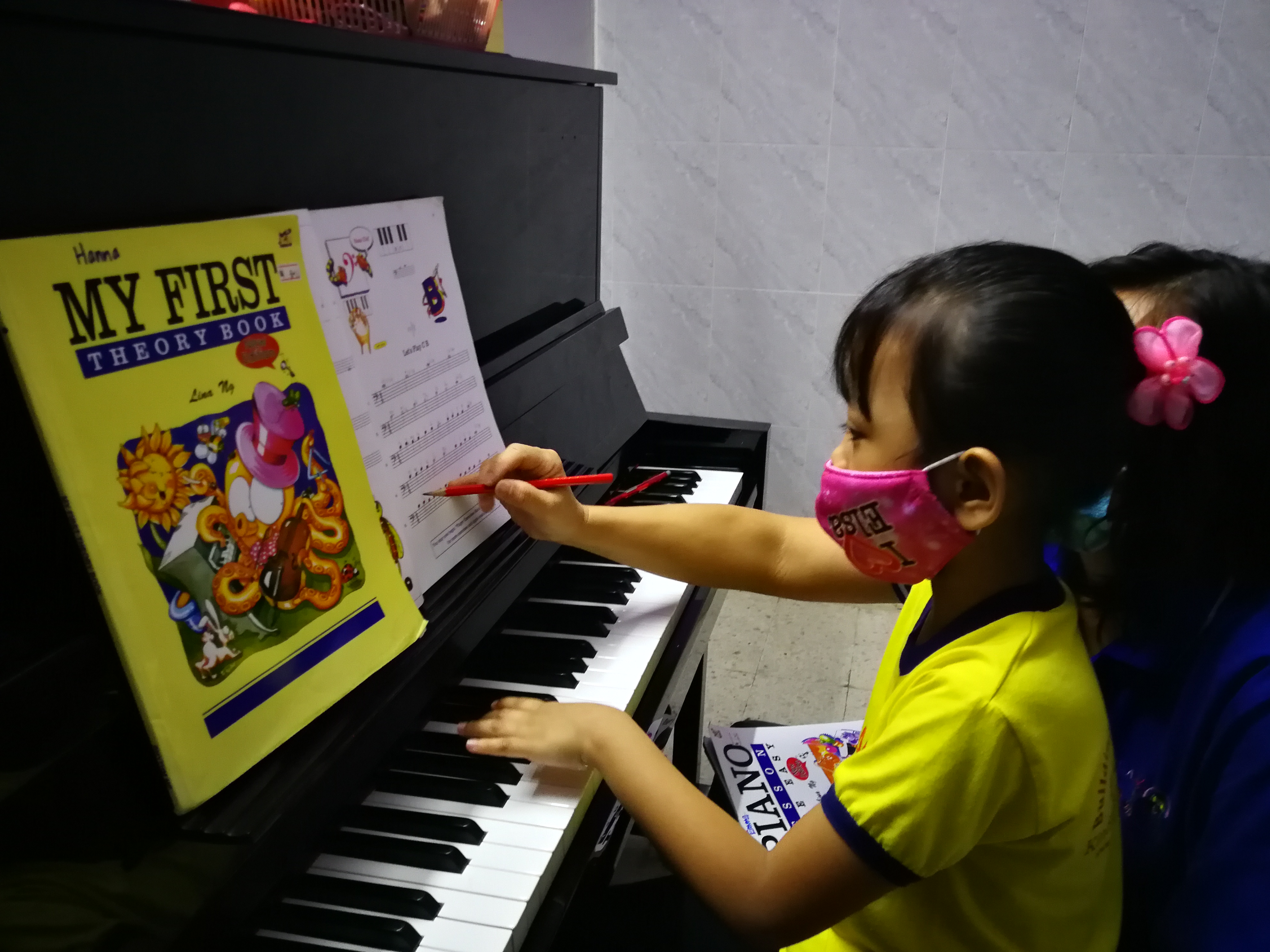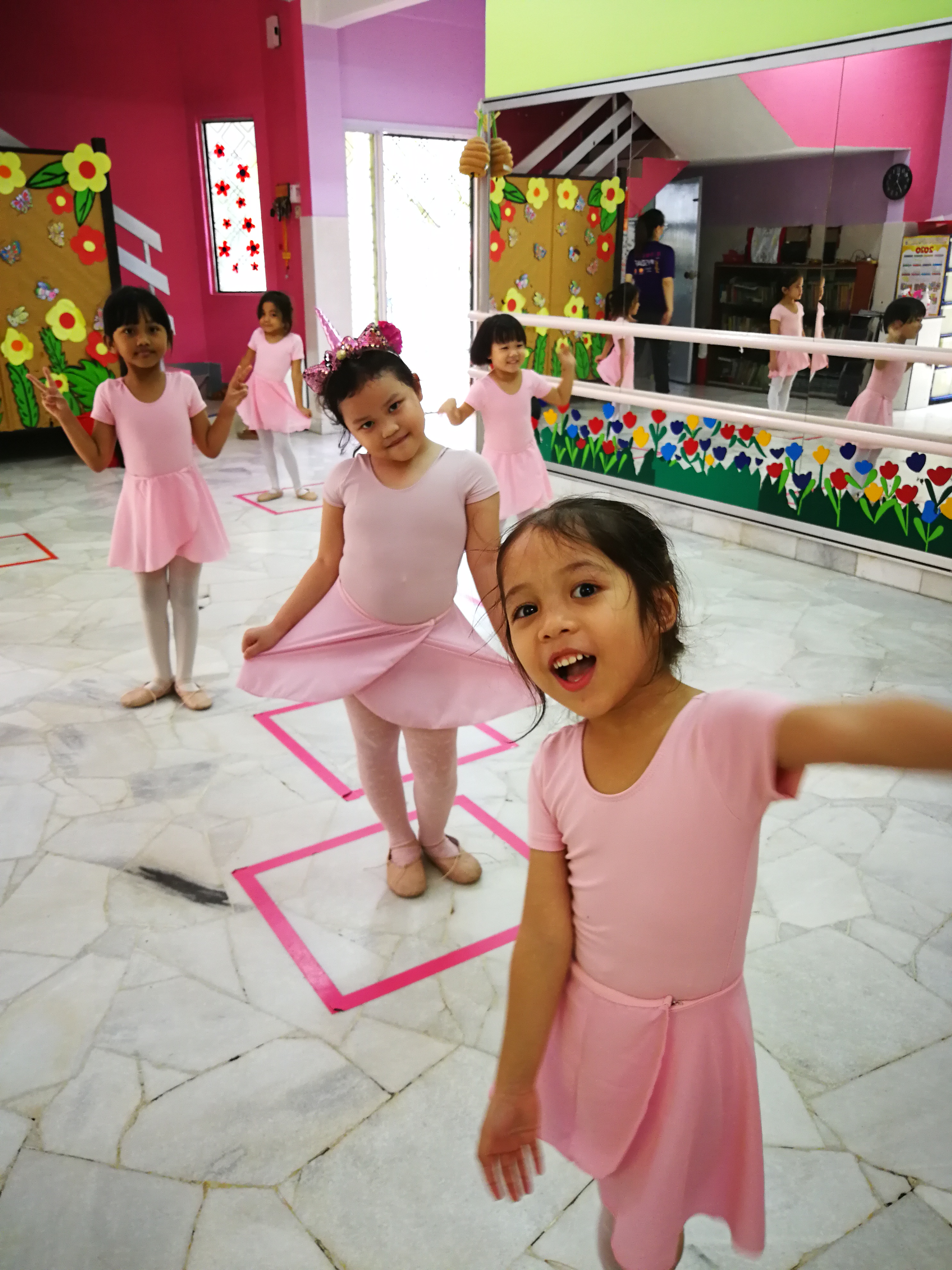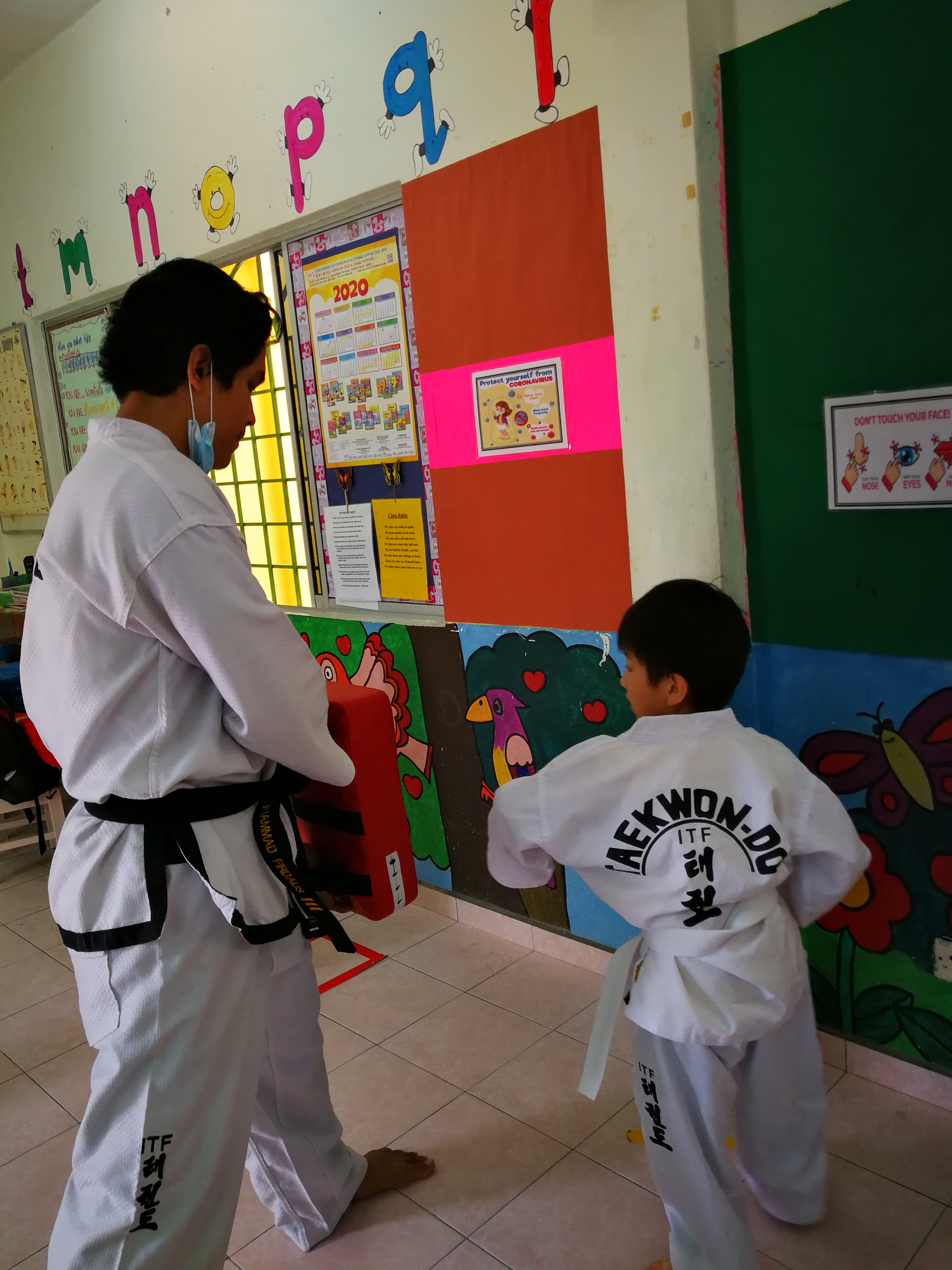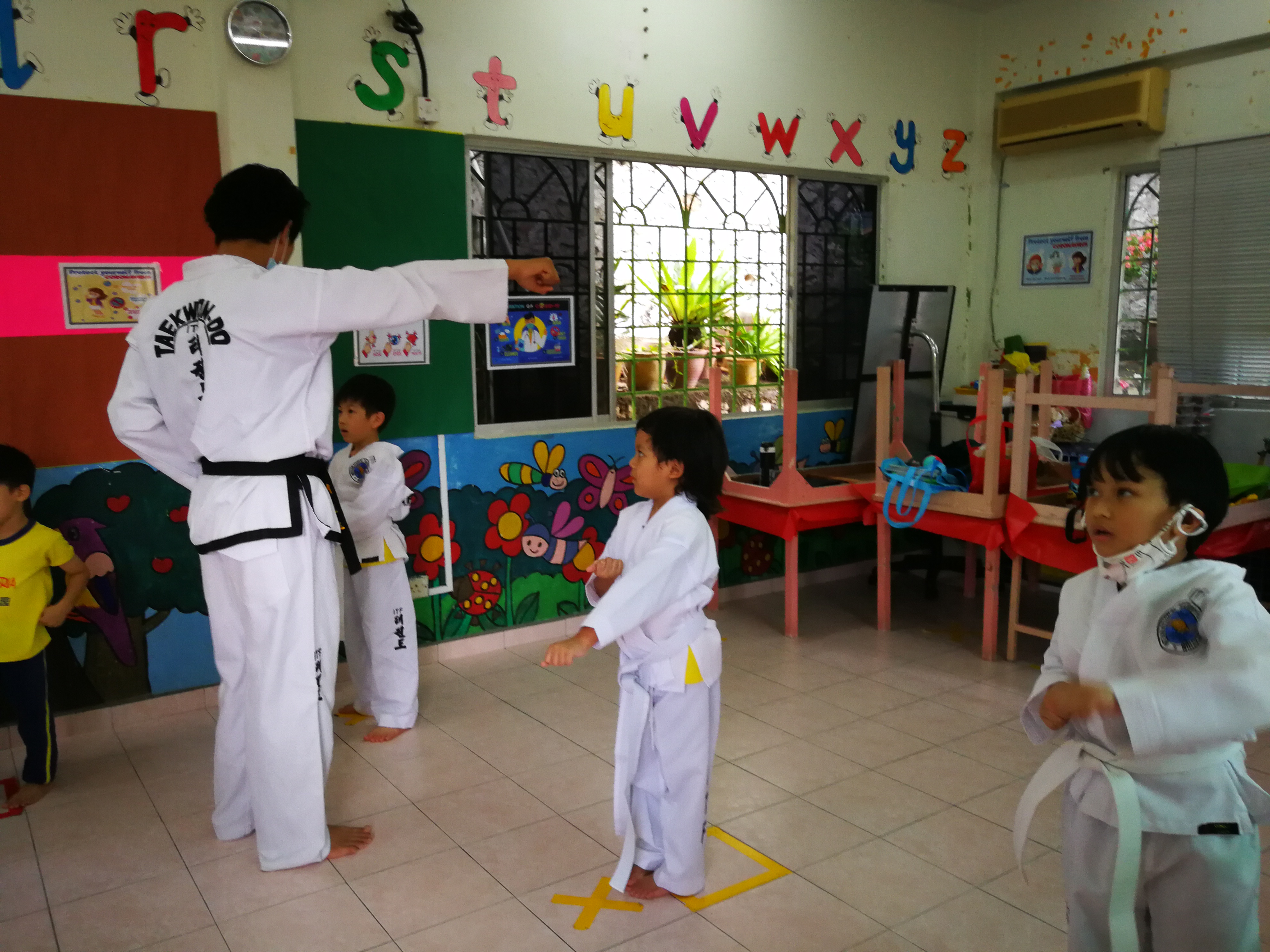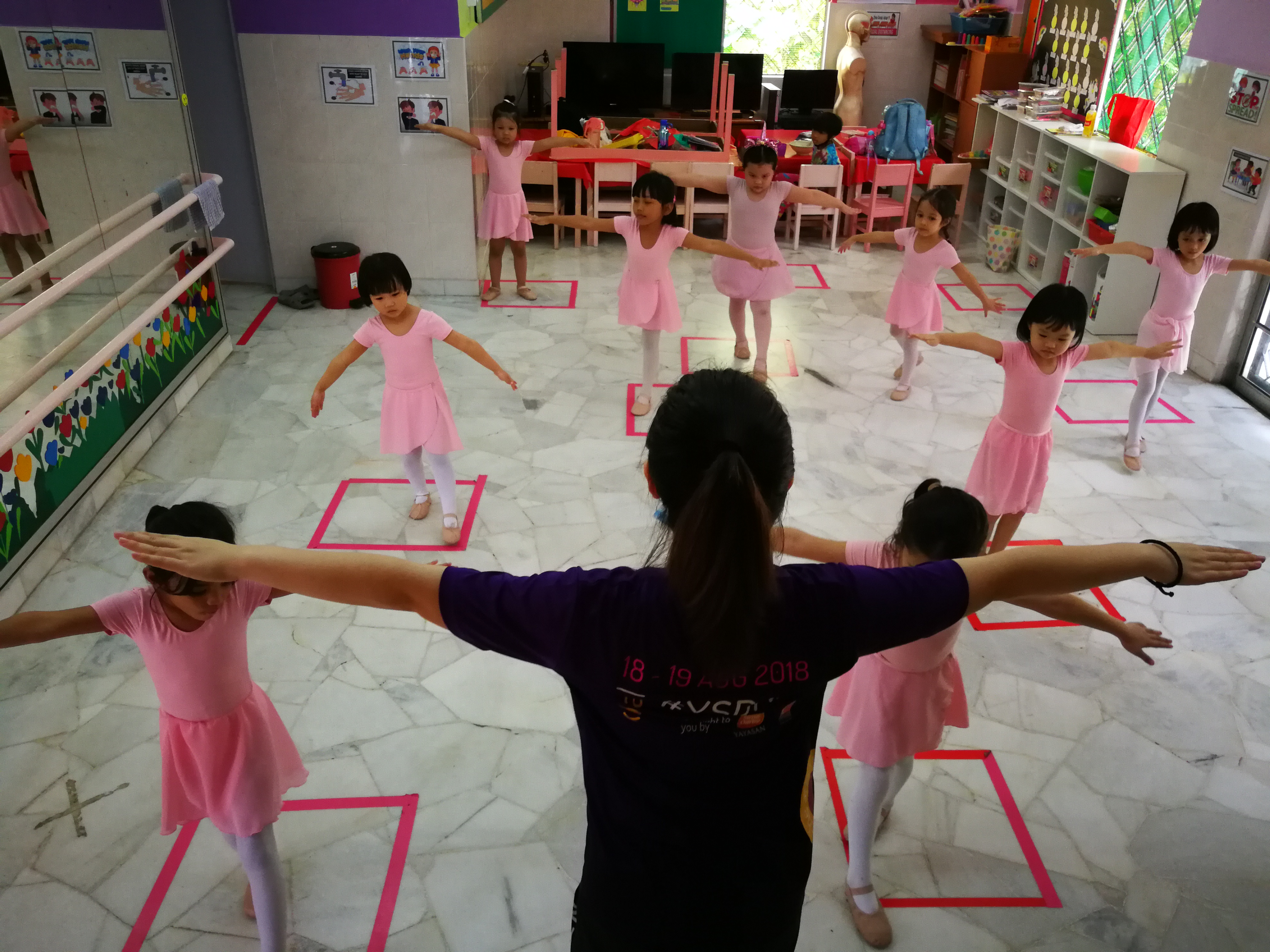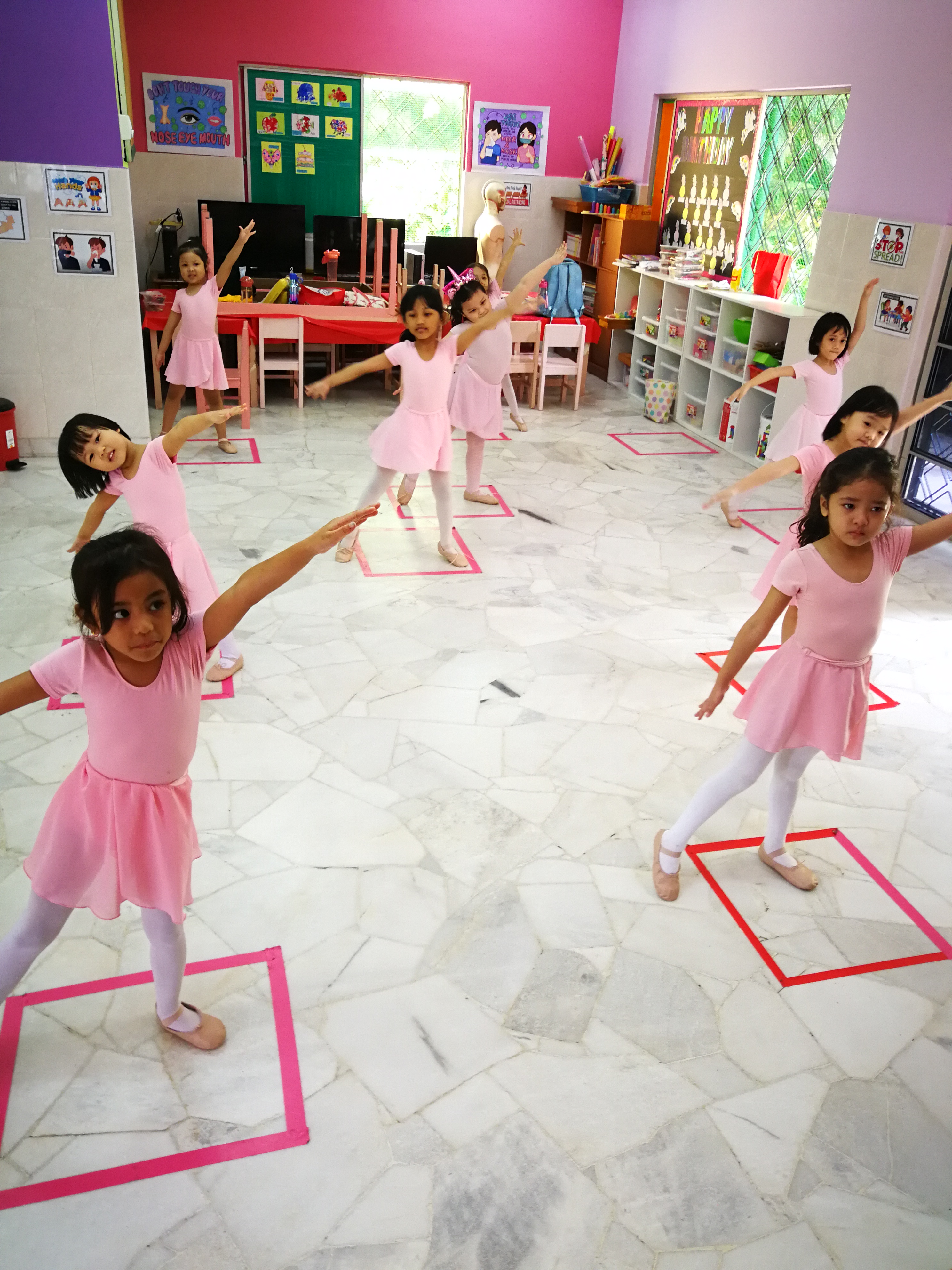 Music Education: Piano , Musikgarten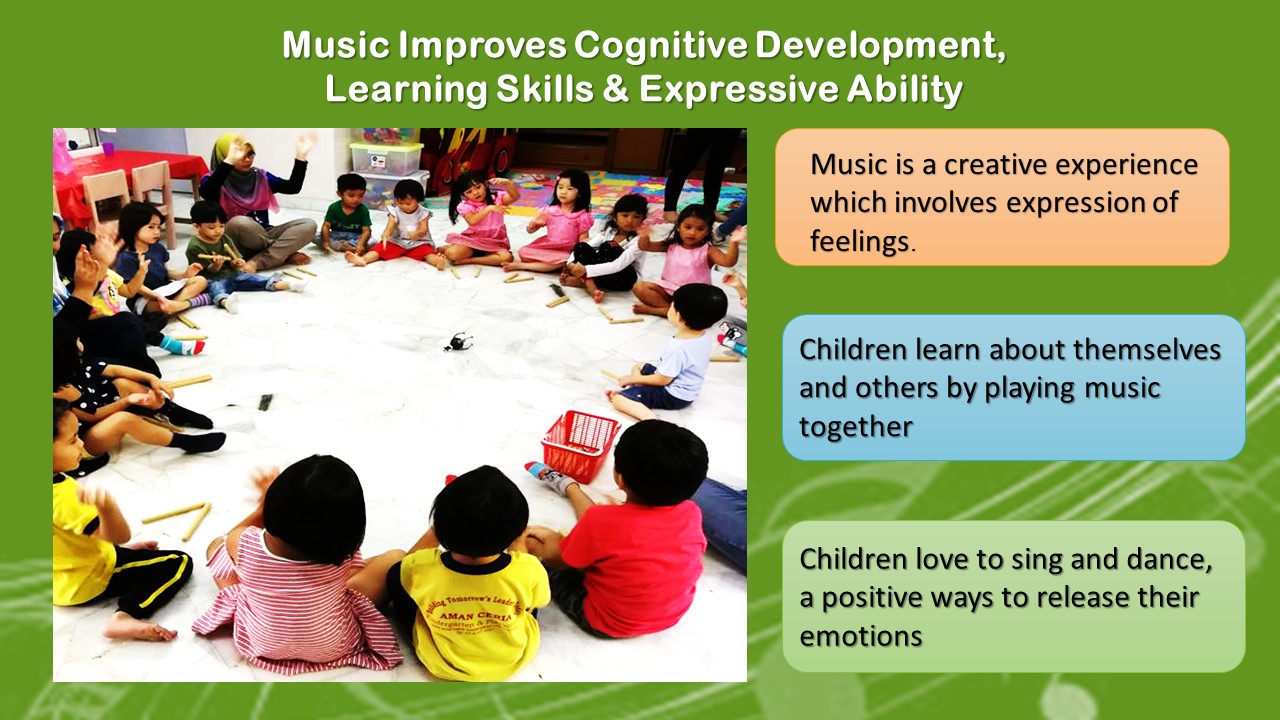 Music is also linked to STEAM skills such as pattern recognition and numeration.

Research shows that early experience with creative arts supports cognitive development and increases self-esteem


Music education is beneficial, stimulates and helps in brain development.
Fostering creativity, imagination, language and movement development.
Skills at each level include; play and recognize musical notes. Children are able to understand musical terms and symbols...


Taekwondo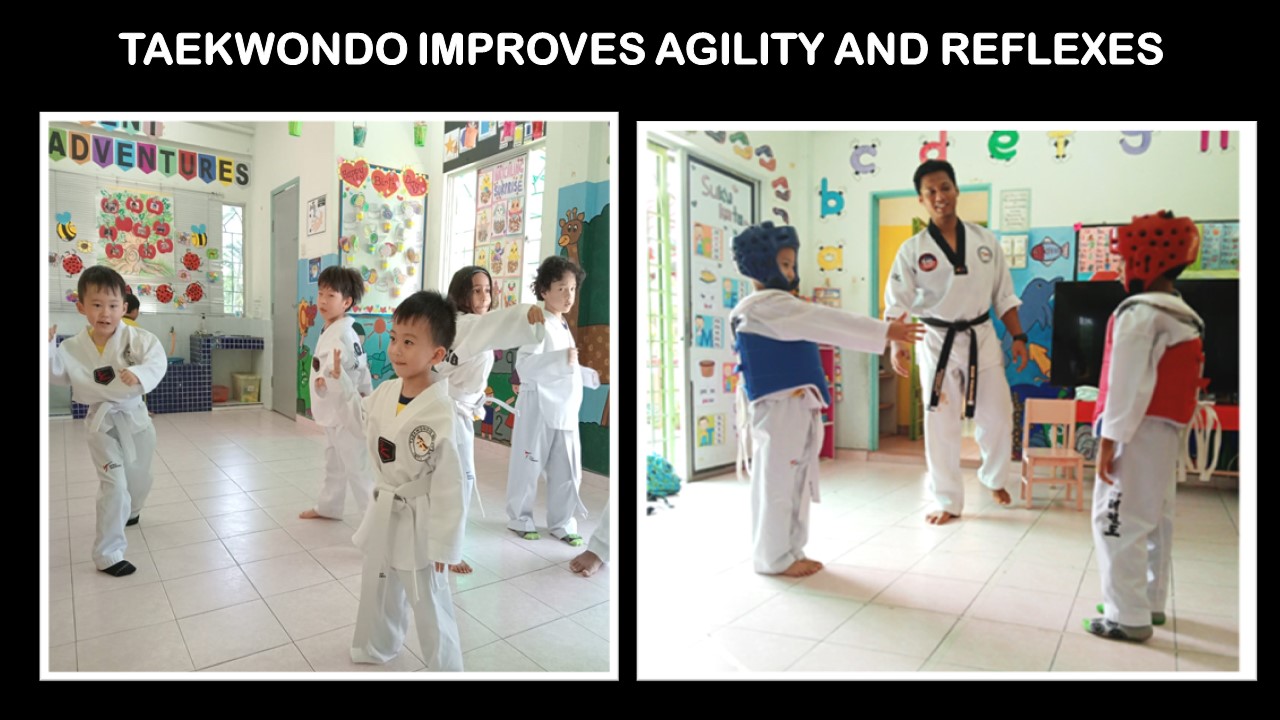 • Taekwondo focus around respect, discipline, learning skills. Improve confidence and self-esteem .
• Children gain all round physical fitness. Increase strength, stamina, improve agility and reflexes
• The systematic physical exercise, emphasizes on health, humanity, respect, self-control and self-protection skills.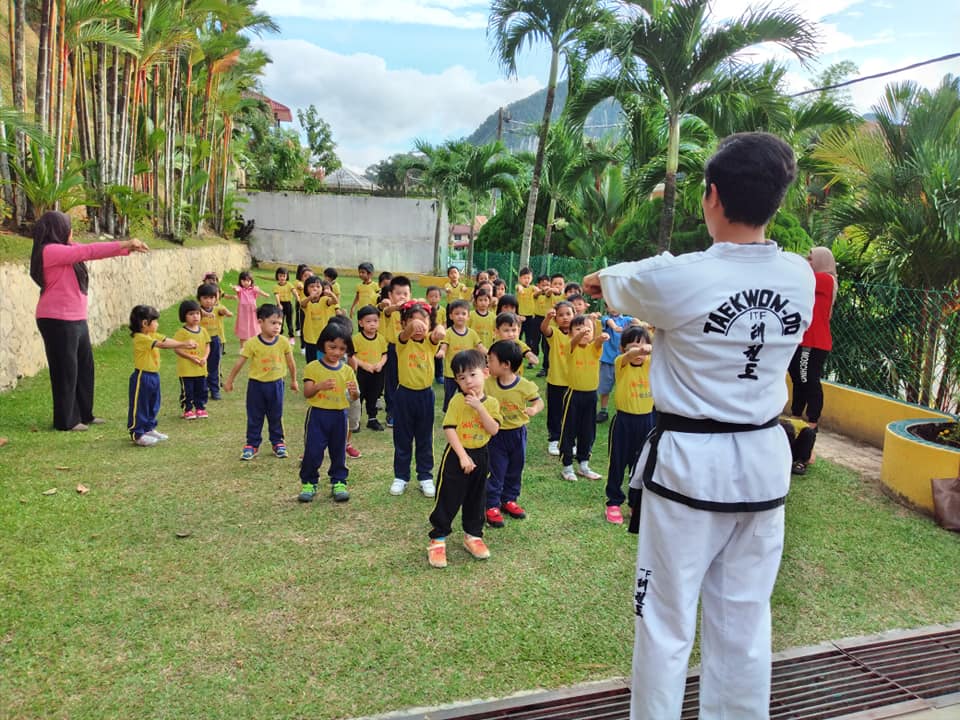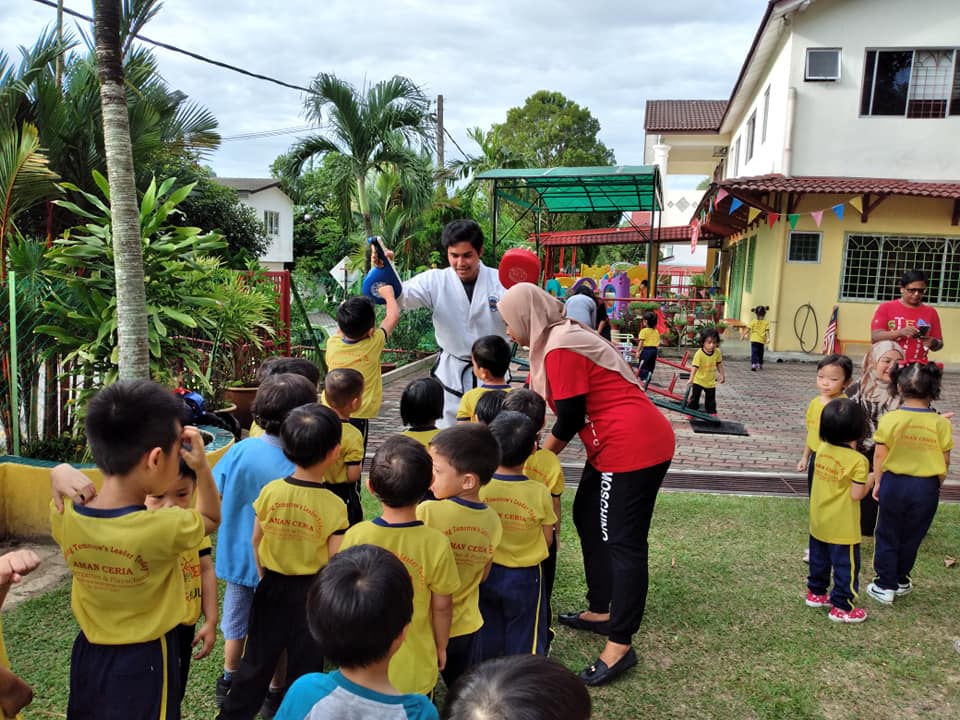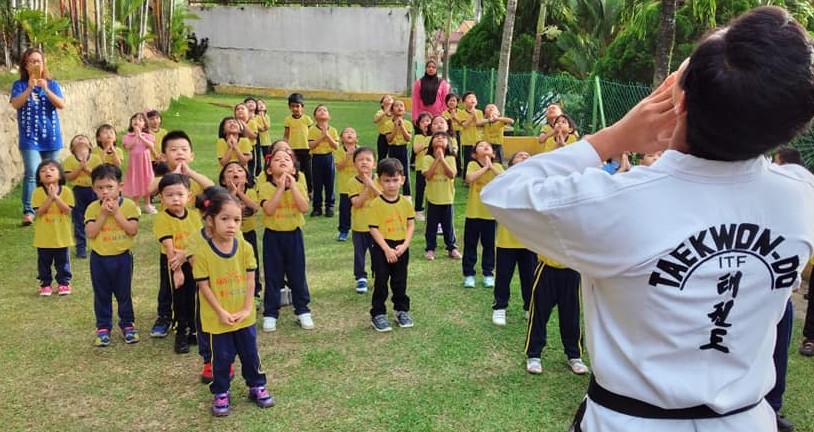 Adventure Holidays Fun Camps
Holiday Camp offers fun, interactive, educational activities for young children- engage in fun learning and exciting adventures
Camp creates an environment where children can explore exciting new things, cultivate friendships and create lasting memories.
Camp programs provide a well-rounded experience from the physical, mental, social, and emotional aspects of their development.
Under supervision children learn about science, art, music, sports, cooking, interactive games, drama, role play, EQ and leadership skills...
The Camp Objectives ...

• Empower children to succeed in school and in life

• Build confidence and self-esteem

• Develop a sense of community

• Stimulate creative and innovative thinking

• Inspire leadership and teamwork

• Cooperative activities with peers, learning to care, share, help

• Widen experiences through critical thinking, how to solve problems



Speech & Drama Holiday Program

Include singing, listening, rhythm patterning, exploring percussion instruments and musical drama.


• Speech and drama allow children to communicate, articulate, and express themselves in a natural and positive way. Boosts confidence to carry on a conversation.


• Children develop social skills, overcome shyness, build self-esteem, leadership skills, increase the ability to adapt and improvise.


Testimonial


Ungku Fadzil Bin Ungku Abu Bakar.

I could see great improvement in my son Ali Hassan in terms of
his social skills and overall learning abilities.

He is always eager to go to school in the mornings and has
gained a lot from the regular school outings and holiday camps activities organized by the school.

I will definitely recommend Aman Ceria for good education to
my friends and relatives at Tadika Aman Ceria.