AMAN CERIA & PLAYSCHOOL WHERE
SUCCESS STARTS EARLY
Transforming Education, Transforming Lives

A Path Toward Next Generation Teaching and Learning


If you are looking for a kindergarten, playschool, childcare where quality and safety is a top concern then this site is for you. We provide students with academic enrichment opportunities as well as extracurricular activities to help them achieve their full potential.

Tadika Aman Ceria and Playschool established in 1983, committed to high quality education and care with a strong record of excellence. We make sure that our students get the best education to prepare them for admission to international, private and government schools.

STEAM (science, technology, engineering, art, math) project-based learning is incorporated into our program to equip students with 21st century skills and competencies. Encouraging creative development, problem-solving skills, critical thinking, inventive thinking, giving them more well-rounded education.

Students are encouraged to ask questions (Inquiry based learning) express ideas and to solve problems. As they begin to master their world, they develop competencies that will prepare them for life-long love for learning.

Our teachers are well trained in early childhood education, competent, caring, every child is assured of personal care and attention. Small class sizes, fostering wonderful interaction between students and teachers.

In partnership with our parents and families, we prepare students to be respectful, caring, contributing citizens who will lead us into the future!


PARENTS REVIEW


Hamzah Amex recommends Aman Ceria Kindergarten.

Amidst the plethora of competing pre-schools today, it might be a challenge to choose which one is the best option for our children. Likely the good ones can be silenced and overwhelmed by the advertising supremacy of the big franchises.


Tadika Aman Ceria is one of them. I believe children at early age should start learning by discovering the world and good values rather than going through the rigid form of education which they will definitely encounter when they enter primary school.


TAC has offered my children the best learning experience of how multi-culture tolerance should be as my generation has enjoyed back in the 80s. The children not only would gain essential knowledge in Language, Maths, Science and Art to prepare them for school, but also other aspects of intelligence such as Music and Kinetic ability.


After TAC, my kids are doing pretty well in national and religious school for all subjects, and this is a testimony to show that children need not be forced to learn serious from the early age to excel.


With real sincerity I am recommending Tadika Aman Ceria for parents around Ulu Klang Gombak / Ampang to enroll their children for pre-education. Let kids be kids and allow them to learn in the best possible way at that age.
Tadika Aman Ceria provides the environment needed for a child to view learning as a journey to exploring knowledge and to develop preliminary leadership competencies. We are happy to see how Batrisyia has changed from a shy 3-year old to a confident 6-year old child who can speak on stage, dance, interact, converse, read, write and have good basics in maths.

The value that we would hope to nurture a child in the current Malaysian sophisticated society: social integration. When asked about the background of her friends, Batrisyia has never distinguished them as Malay, Chinese or Indian. Our kids are colour blind .

Ir Amir Hamzah (Associate Director - Innovation, Telco Industry)
Yusniza A Rahman (former Accountant)
Open Registration for year 2020

Operation Time:
Kindergarten Session: 8:00 am – 11:30 am ( ages 2 - 6 )
Before & After School Care : 7:30am - 6:30pm ( ages 2 -12 )


> Our classes are small, limited places only.
> Your child is assured of personal care and attention.
> Prospective parents are advised to register early
to reserve a place for your child.
> Priority given to siblings of our current students.
Please call before you come 03-41070261, 016-2345726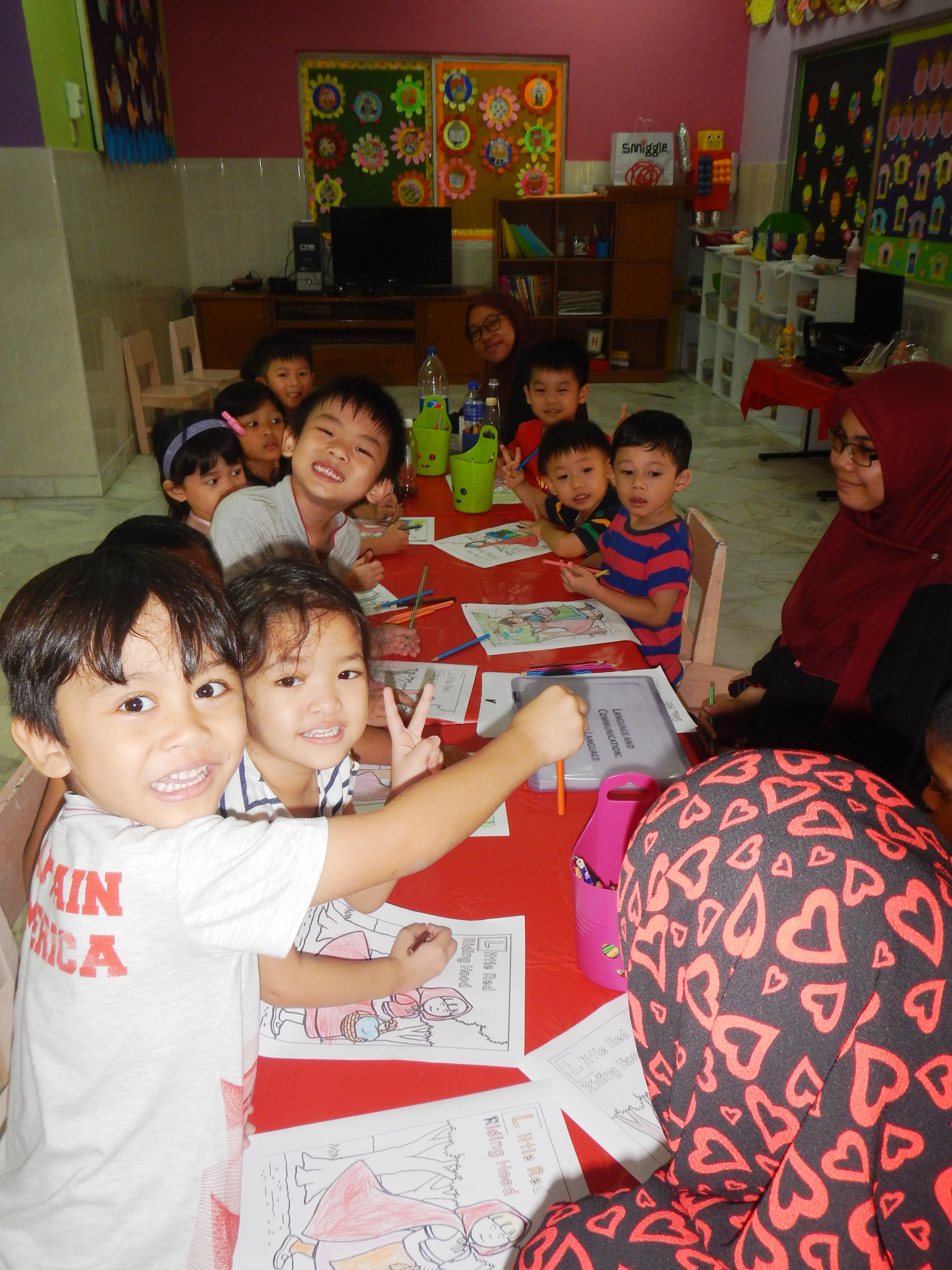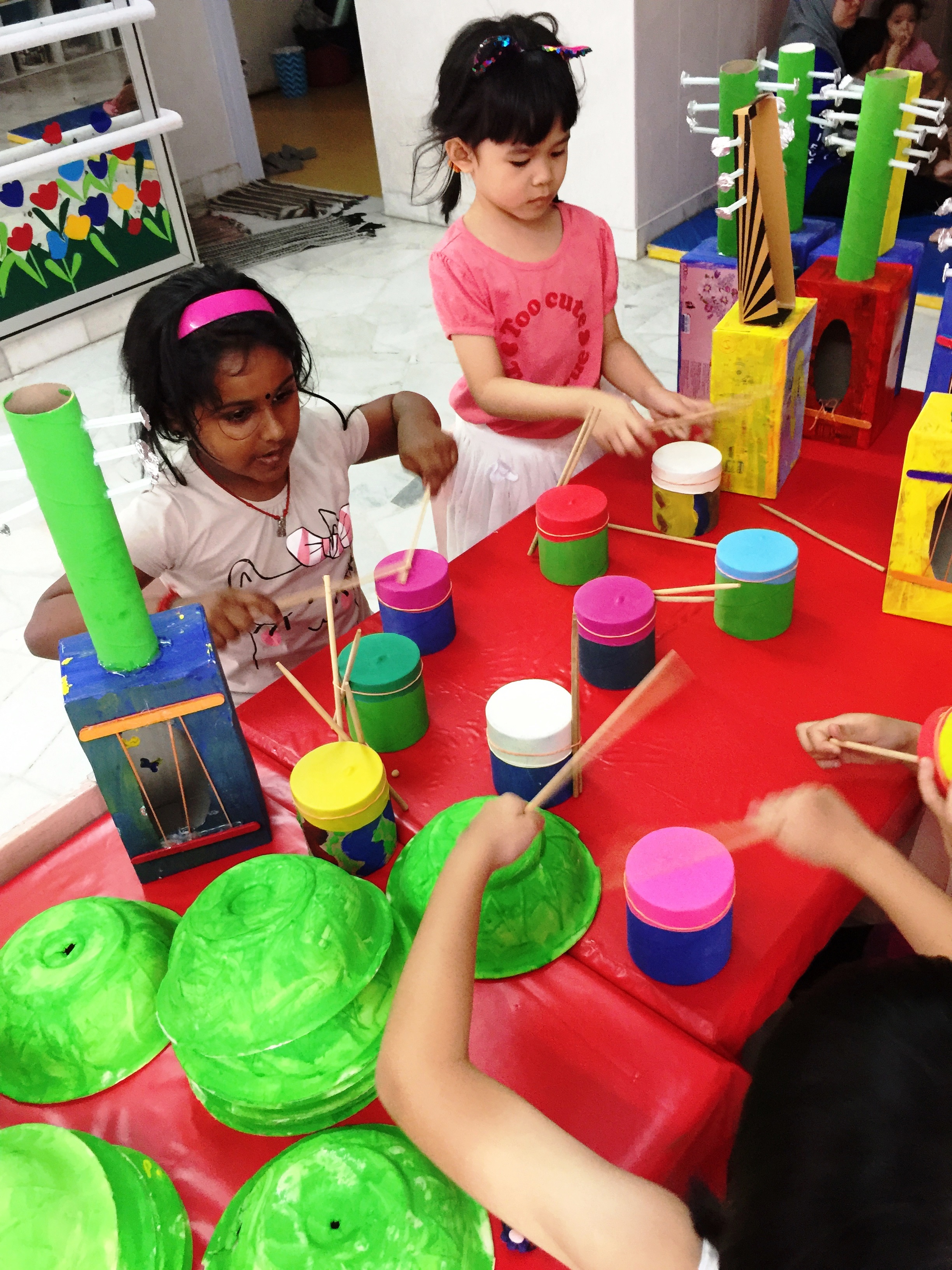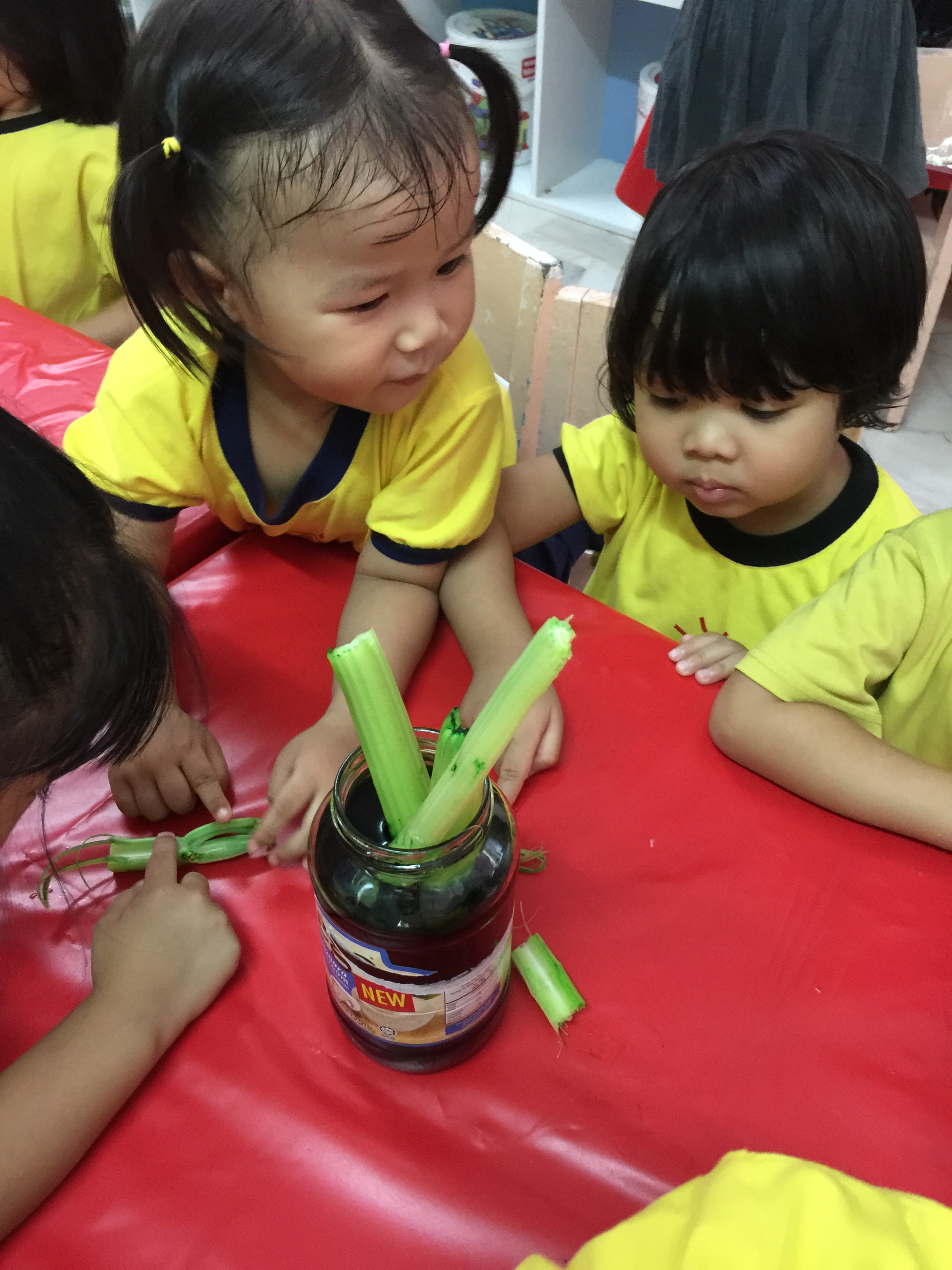 How Children Benefit from Aman Ceria and Playschool?

TAC exposes students to the creative thinking processes


School for Tomorrow's Leaders: We believe in the potential of every child. Being confident, competent, independent, active learners, able to stand out as leaders and problem solvers in any groups.

21st-Century Learners: In this globally and digitally interconnected world, your children need new skills and knowledge to succeed. Early STEM and STEAM education is integrated into our Adventure Learning Program, to encourage children be actively engaged in their own learning.

STEM Education stands for Science, Technology, Engineering and Math. S.T.E.A.M. is Science, Technology, Engineering, Art, Math. Both STEM & STEAM lessons are well rounded, project and inquiry based, with a focus on interdisciplinary learning ensures academic quality.

Integrated & Comprehensive Curriculum incorporates creativity, critical thinking, problem-solving, communication skills and the best practices in preschool education.

Well-Balanced Education & A Safe, Holistic Environment embraces respects, cultural diversity, as a positive value to be nurtured. Children learn and grow in character, discipline, respecting others, social and leadership skills


Learning Adventures: Play and Learn The Fun Way

The name Aman Ceria is chosen to reflect our goal of nurturing students in a joyful and protected surroundings. So they can grow to their full potential, equip with positive attitudes as well as effective learning strategies to help them excel in all areas of their life.

At Aman Ceria you will find happy, cheerful children playing and learning alongside with friends.

The name A. M. A. N. C.E.R.I.A. stands for...

Aman Ceria provides an all round education to enhance individual strength
Montessori and Multiple Intelligence to facilitate effective learning
Active Project & Brian-Based Learning to increase academic achievement.
Nurture children's self-esteem, self-confidence, and independence

Character education to foster positive social values and good citizenship
Enrichment strengthen academic skills and maximize children's potential
Respect each child as an individual and prepares him/her for Primary School
Innovative and comprehensive curriculum instill a 'Lifelong Love of learning'
Achieve excellence in Childhood Education and Child-Care Solution!


Teaching is our passion. We love what we do. We provide:


Strong foundation in Language and Literacy Skills - English, Mandarin, Bahasa Malaysia, Math, Multimedia, Character Development, Science, Social Studies, Physical Education.
Character education is integrated into every aspect of the curriculum.

Children develop positive attitudes, strong moral values, and good social skills.
Comprehensive active learning program has proven to be effective. Children excel academically, they are confident, competent, independent and successful learners.
We compile methodologies and research to strengthen foundational skills- reading, writing, numeracy, communication, extend children's learning experiences and development.


How play benefits children?

Play is an important part of a child's early development. Playing helps young children's brains to develop and for their language and communication skills to mature.

Children learn to -


Socialize, make friends, share experiences, work and play cooperatively and develop friendships.
Develop many skills- physical, social, intellectual, language, communication, creativity, critical thinking and problem solving.
Develop confidence in their abilities to learn while interacting with other children and adults.
Play is one of the most important activities for the development of language - listening, speaking, reading and writing.



When children are having fun and real-life experiences, they are REALLY learning.

Children find school experience and lessons stimulating, challenging and enjoyable. They are more aware of their surroundings through their senses as they explore, investigate, and discover.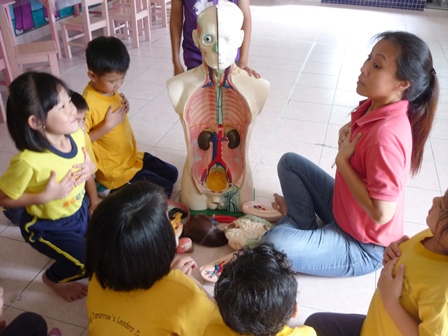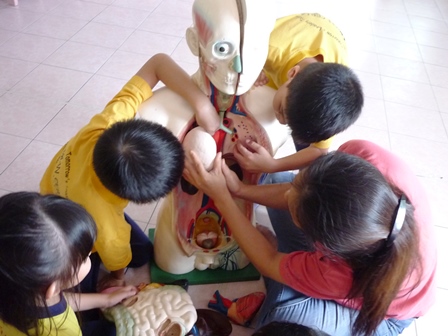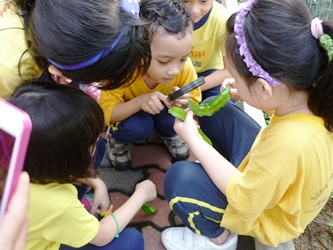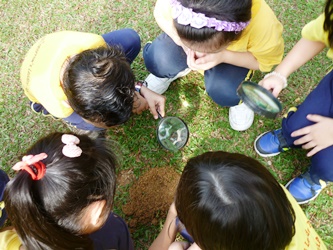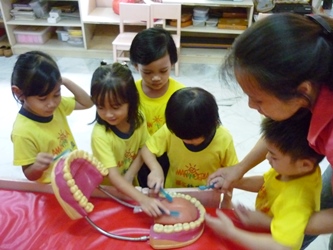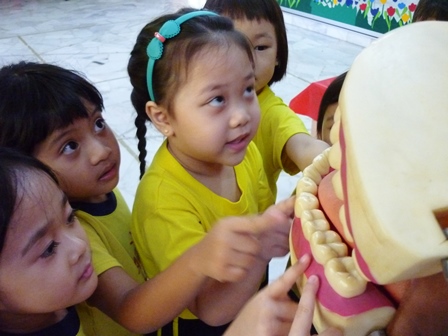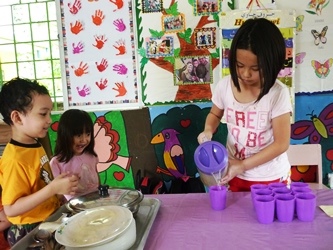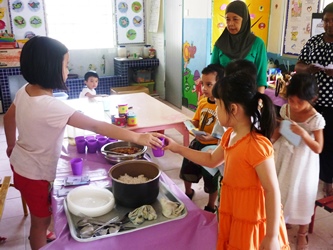 "The most important period of life is not the age of university studies but
the period from birth to the age of six" from Maria Montessori




Aman Ceria nurtures curiosity and a love for learning that stays with the students through life.



Testimonials & Reviews from Current Parents


We are happy to share here why we were convinced to choose Tadika Aman Ceria over other pre-formatted pre-school programs. The teachers here are carefully selected and they nurture children with sincere love and care.

We have enrolled our 4th child here this year 2019 and as an endorsement that for us TAC is the best pre-school in Ulu Klang, if not in KL. Thank you TAC for helping us nurture future leaders for the nation.


Ir Amir Hamzah Mohd Amir & Pn Yusniza A Rahman,


Ramanan Mom
I am glad that the teachers at Aman Ceria are very helpful,
very tolerant and that has changed my son's behaviour alot.

Thank you so much

Mrs. Nimallarani Visvan
I'm glad that Tadika Aman Ceria emphasis and focus more on students' EQ (moral values, feelings & attitudes) rather than result orientated system.

I believe that EQ is more important than IQ in Early Childhood
Education. I'm happy to see my son's improvement in self-control, manners and attitudes.

Thank you teachers for all of your support, encouragement and patience in Izz's learning journey and most important thing, happy to be there with the other students.

From Izz mom Pn. Wan Nur Baity
(Lecturer Asia Metropolitan University)


Zhi Yang & Zhi Yie Dad
What we like about Tadika Aman Ceria is that the school has play-project based learning, that makes every child happy to go to school.
The teachers have helped my two children Zhi Yang 6 years old and his younger brother Zhi Yie in their educational, emotional and spiritual growth.
My eldest daughter is now in Primary. She was a former student of T.A.C. She is doing well in school.
From Mr. & Mrs. KanTeng Huat