PARENT & SCHOOL COLLABORATION

PARENTS, TEACHERS & SCHOOL ARE PARTNERS IN EDUCATION

We collaborate with parents in creating a safe, caring and stimulating learning environment where every child is provided with all the opportunities to develop talents, skills and realize his /her full potential. We place an emphasis on building a strong community through involving parents in their child's development and learning at school.





PARENTS PAGE

This section will help you find key information about early childhood education.

Why is kindergarten important?

Research shows that learning in the early years lays the foundation for later life. It demonstrates that quality kindergarten programs improve subsequent learning, health and behavior, with positive impacts extending into adult life.

What will my child learn?
At kindergarten your child will do many things. Your child will learn:
social skills, for example, how to play together

emotional skills, for example, how to understand their feelings

language and literacy skills, such as reading stories, talking together,

art and craft: drawing, painting, and making things

gross motor skills, for example, climbing and jumping

fine motor skills, for example, using scissors

dance, music and movement eg. listening to music and clapping

These skills will help your child for their whole life
Is childcare available beyond the stated school hours?
Yes. There is a choice for half-day and full-day.
The program offers special activities such as enrichment program. In addition, there is supervised indoor/outdoor areas for free play.
What types of field trips and special activities offered?
Field trips are an important and exciting part of the Kindergarten experience. Destinations may include visits to the science center, zoo trip or nature area. Children celebrate all festivals which is important to our diverse community.


What is your discipline policy?
Our teachers guide the classroom interactions so that each child learns the value of cooperation and gains skills for solving conflicts in a positive manner. We use our best professional judgment when implementing supervision and correction. We stress positive reinforcement and redirection. Negative or disruptive behavior that persists will be discussed with the parents, and a joint plan of action will be taken. Corporal punishment is not used.
How do I prepare my child for the first day of school?
Try to visit the school with your child before the first day. Point out activities, toys or games that you know your child will find especially appealing. In advance tell your child you will be leaving and that the teacher will take care of him / her while you are away. Let your child know that you are looking forward to hear the fun he/she had at school.


How do you recommend parent leave their child at school?
Bring your child into the classroom and say hello to the teacher. The teacher will give you and your child a friendly greeting. It would be helpful to get your child settled in an activity. Say goodbye and perhaps some special words of encouragement, wave and maybe blow a kiss and then go. Once you say goodbye do leave right away. Parting is usually made more difficult for the child if the parent leaves and then returns. If your child cries as you leave allow the teacher to provide comfort.


Parents -Teachers Meeting discuss children's progress and view the children artworks displayed in their classrooms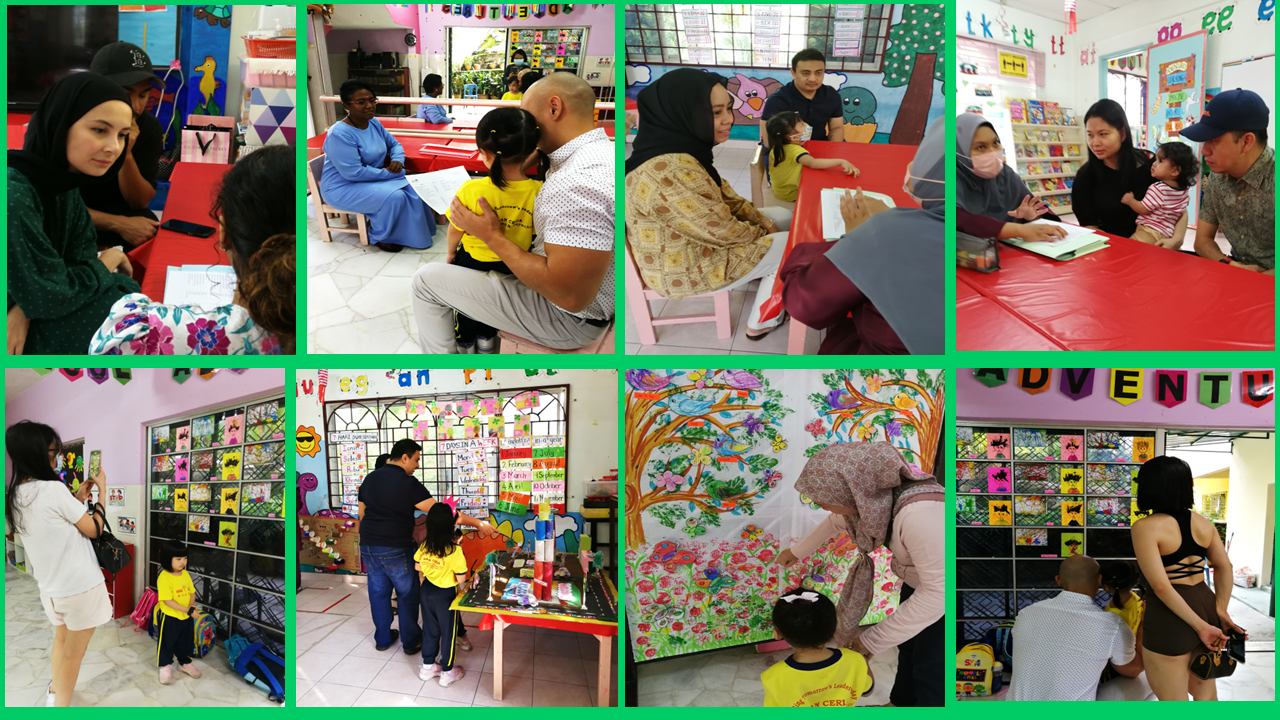 Children's success depends on the close cooperation and collaboration between parents and teachers particularly during your children's first six years of life.

ANNUAL HAPPY FAMILY SPORTS FUNDAY

Sports is an important part of our curriculum. Sports promote a spirit of social interaction, cooperation and friendship. Sports strengthen bodies, train the minds -help children think critically, solve problems, build self-discipline, trust, respect for others, leadership and coping skills. All of which form the foundation of character building.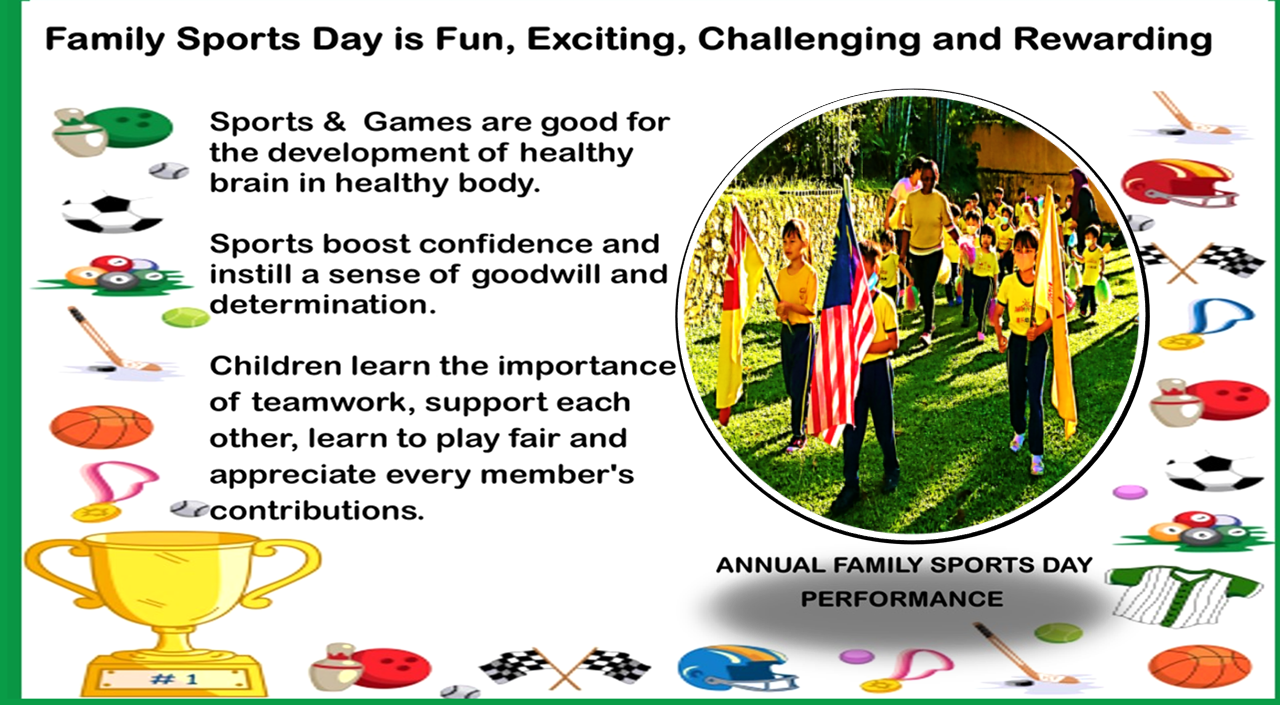 Happy Family Sports Funday and Parents Appreation Day


Bring parents, families, staff, children together for fun engaging team-building games and activities. The diverse community- reflects a wonderful mix of culture, race, beliefs... which reflect the real world that children are active members as they grow.

Children make handmade gifts to moms and dads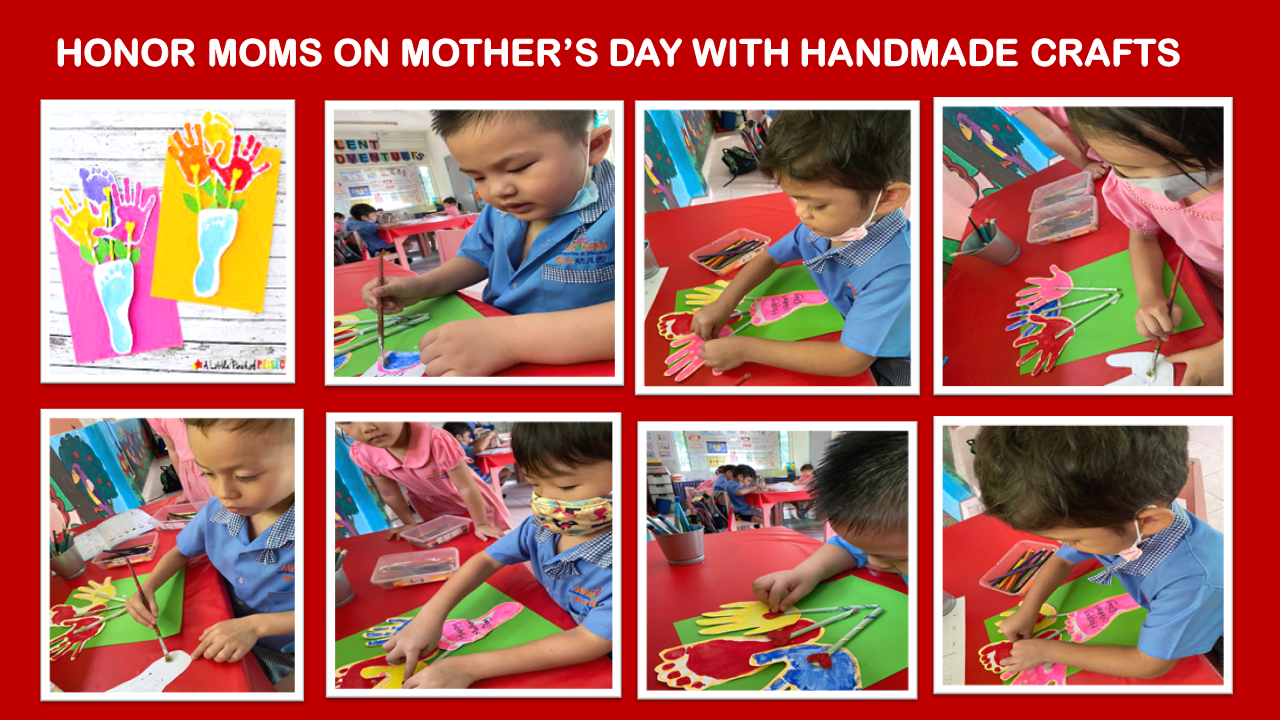 Children's creative arts are displayed in the classrooms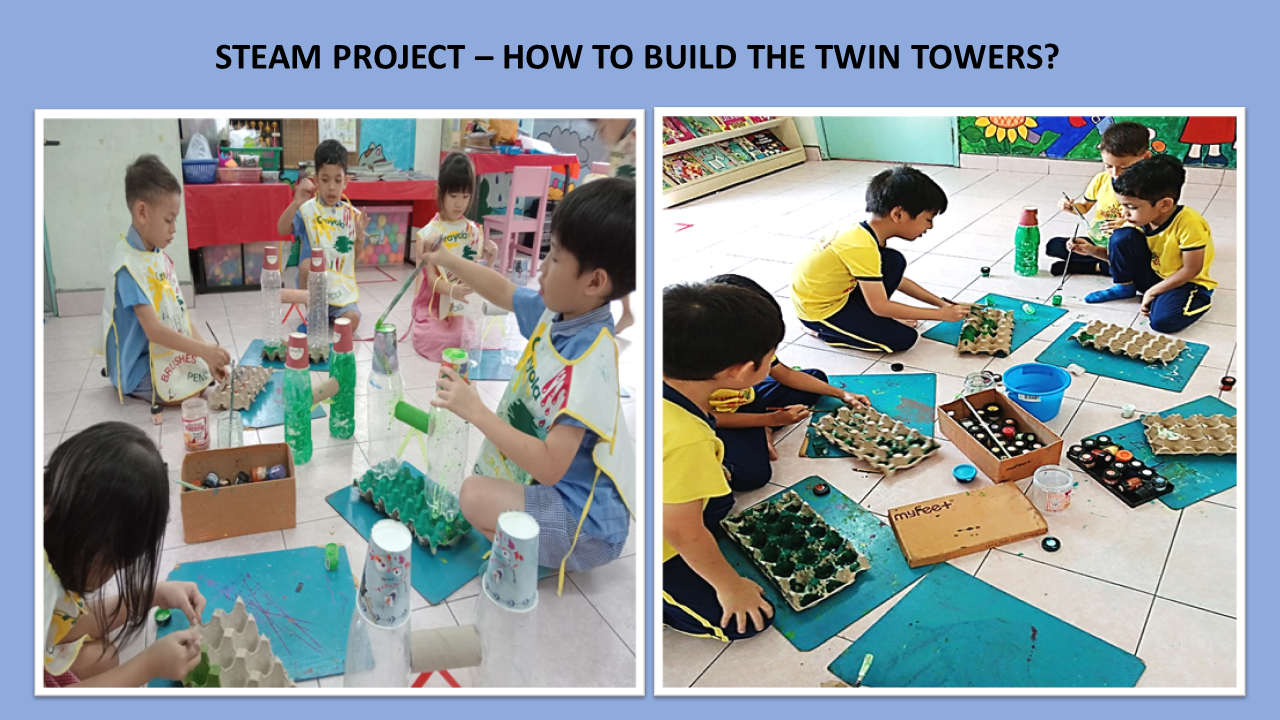 Sports build strength of character, team- work, commitment
Children learn the 3 P's in sports - Practice, Patience, and Persistence
Sports boost children's confidence and instill a sense of goodwill and determination.
Children learn the importance of teamwork, how to work together, support each other, learn to play fair and appreciate every member's contributions.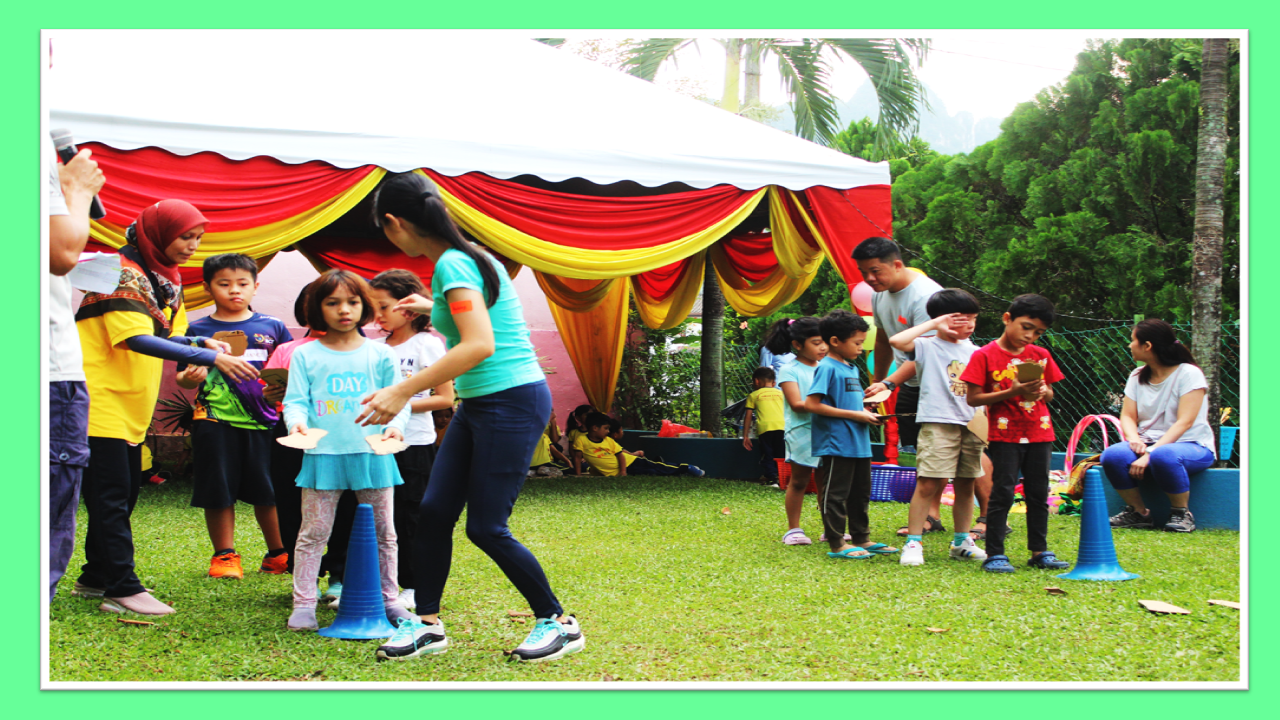 The key to maximum children's success lie in a good parent-school relationship. A positive relationship helps children feel good about school and help them to be successful.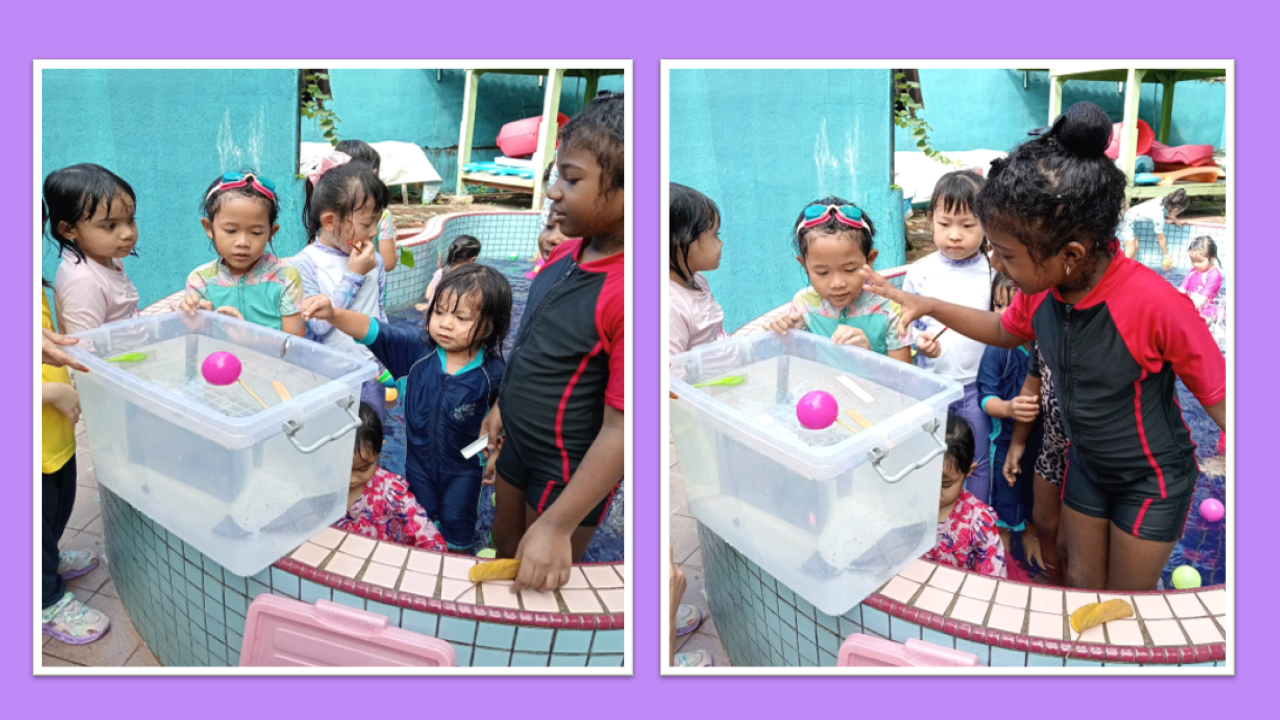 Parents involvement in sports has been proven to increase cognitive function that lead to better working memory and attention. Children who are competent at sports are likely to be team captains or group leaders and have better social skills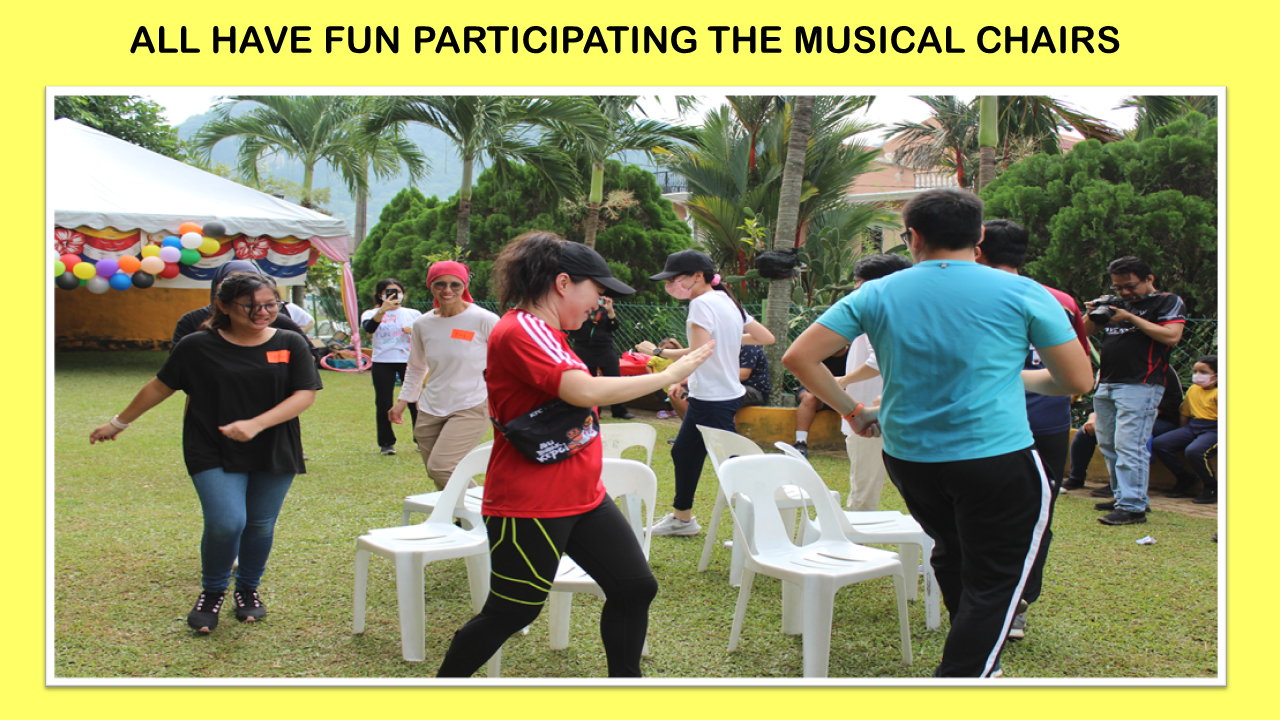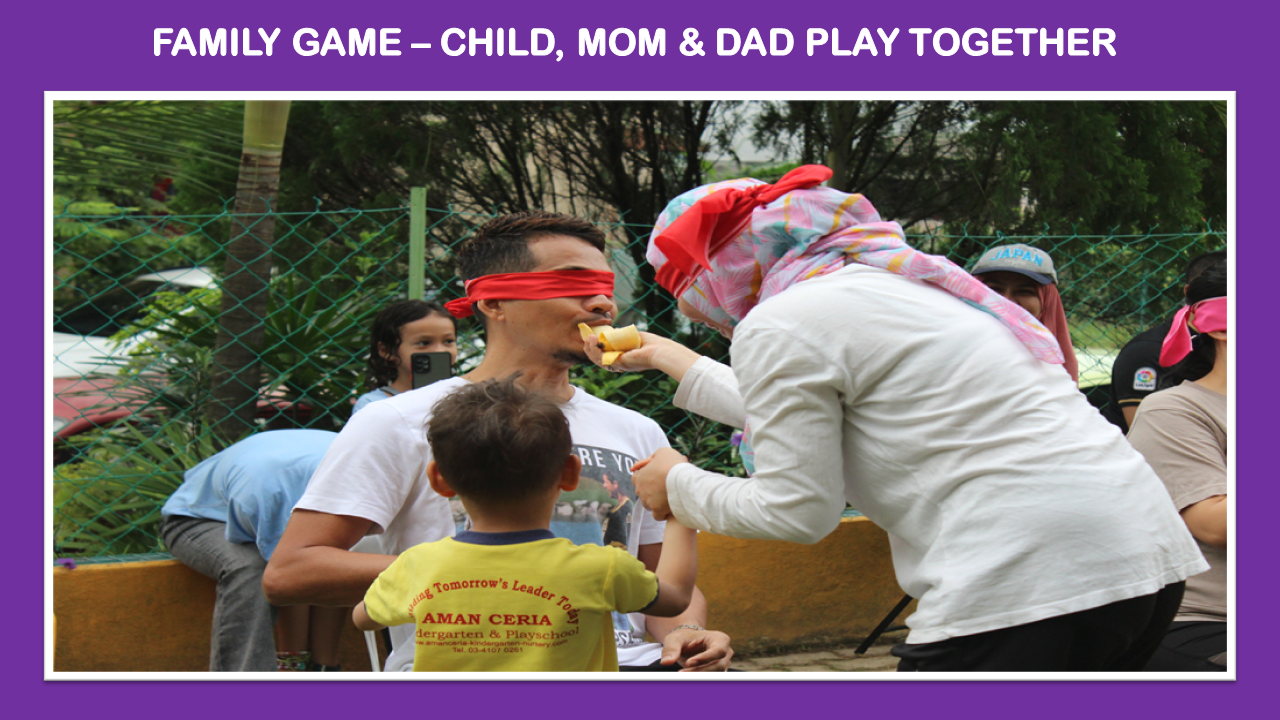 Parets- School Collaboration is essential in helping children learn and grow. Children learn how to read, write and communicate orally. Parents are children's first influential teachers. Parents and teachers provide the Best learning environment, both at home and at school.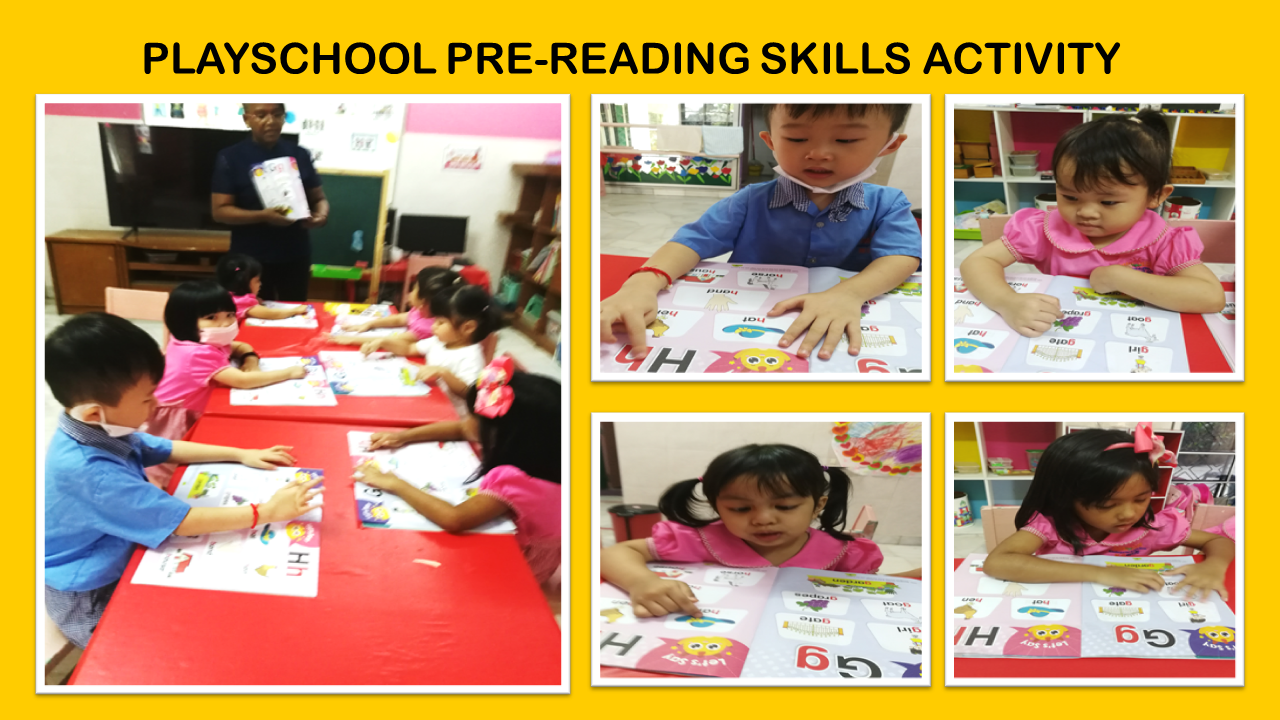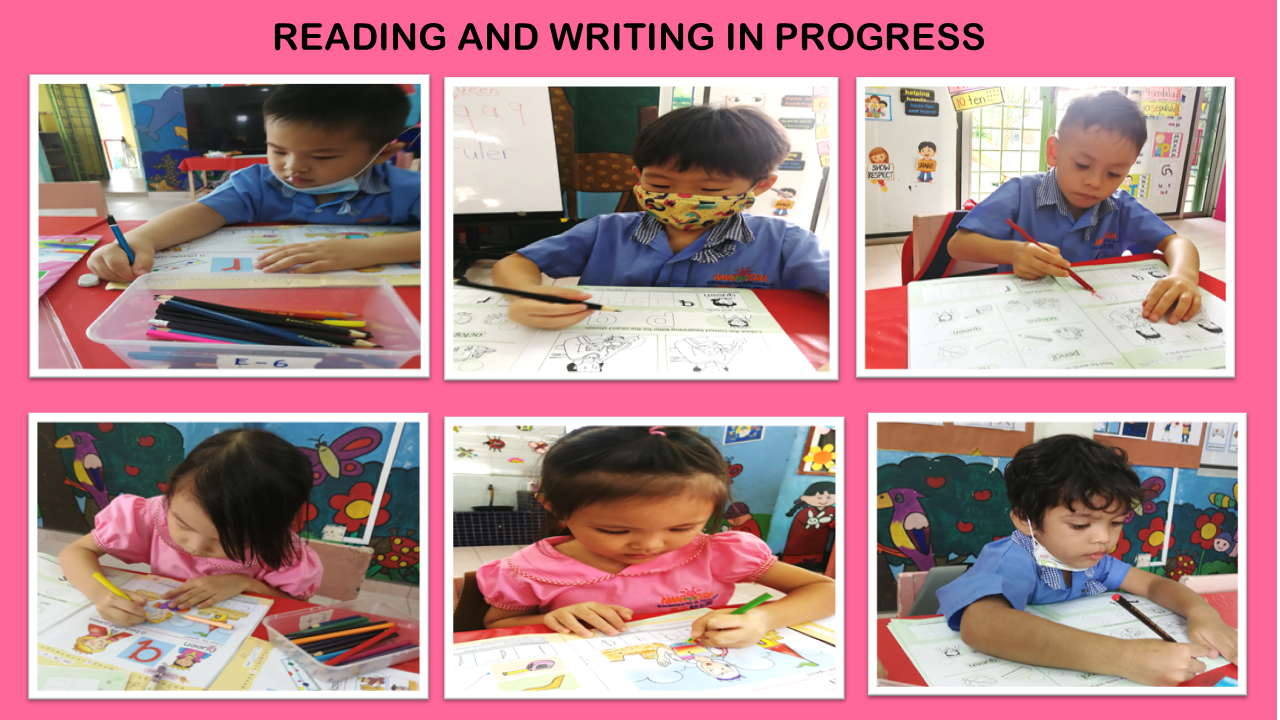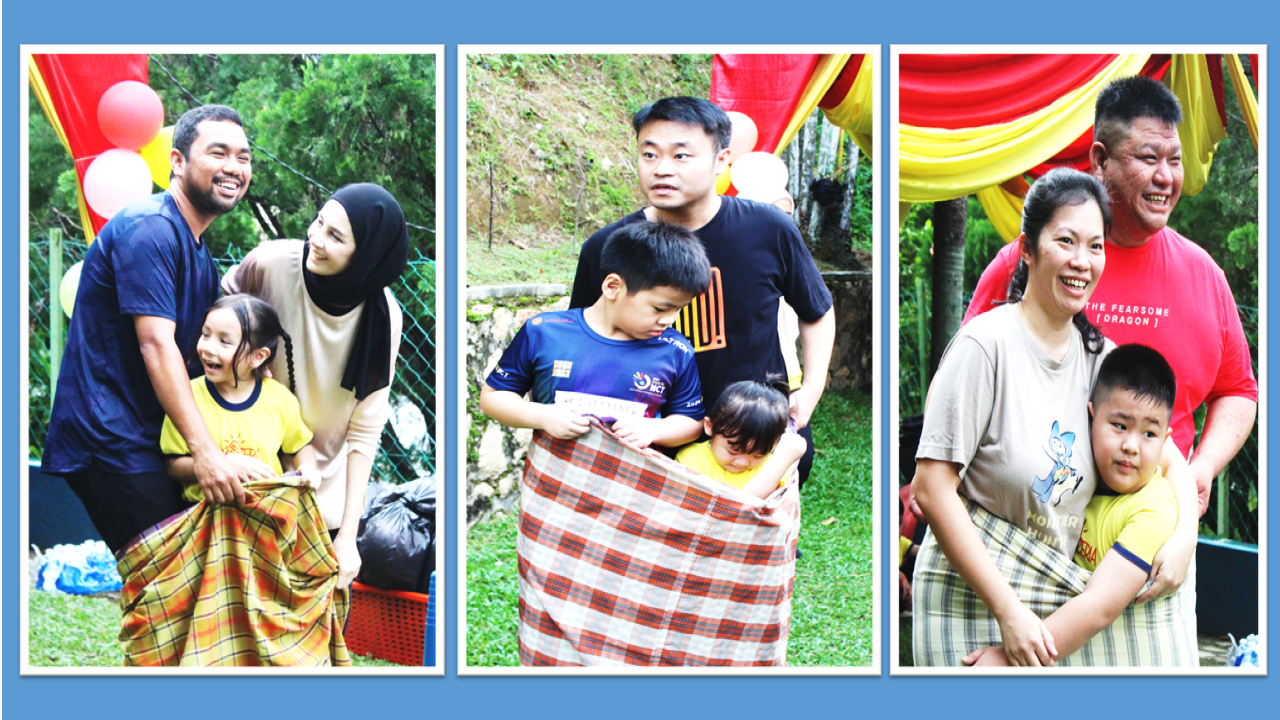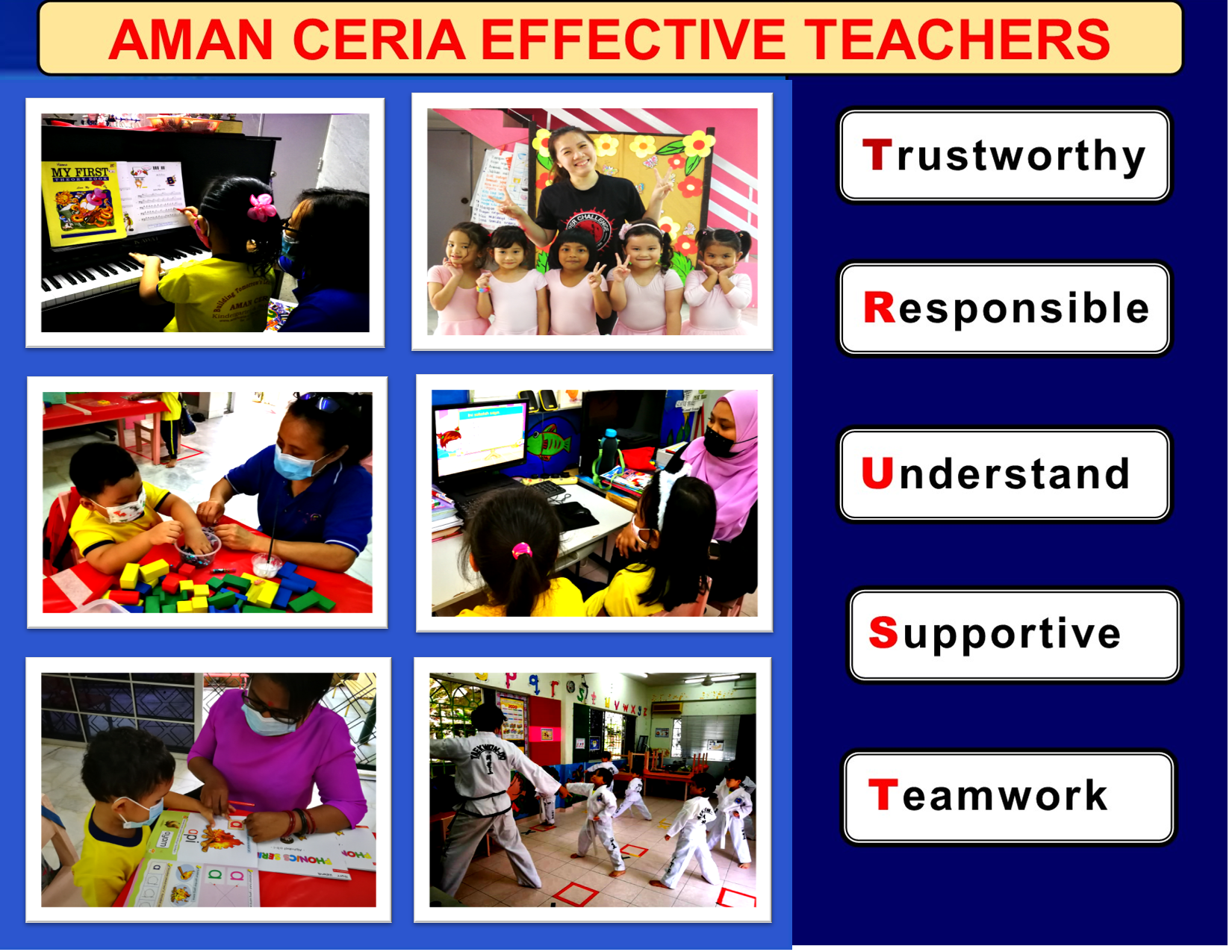 Family Day Educational Field Trips
Field trips are incorporated into the kindergarten program, so that children will have first hand learning experiences outside the classrooms about things around them in their natural context and environment.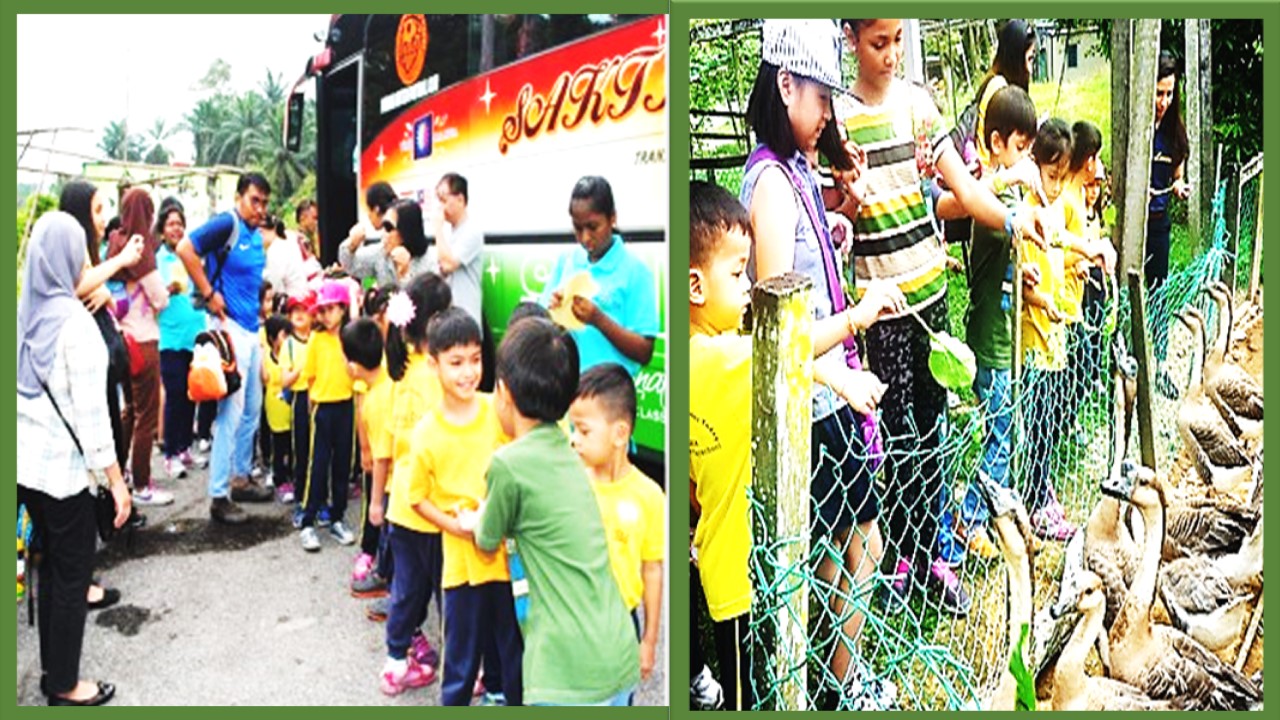 SCHOOL ANNUAL CONCERT 2022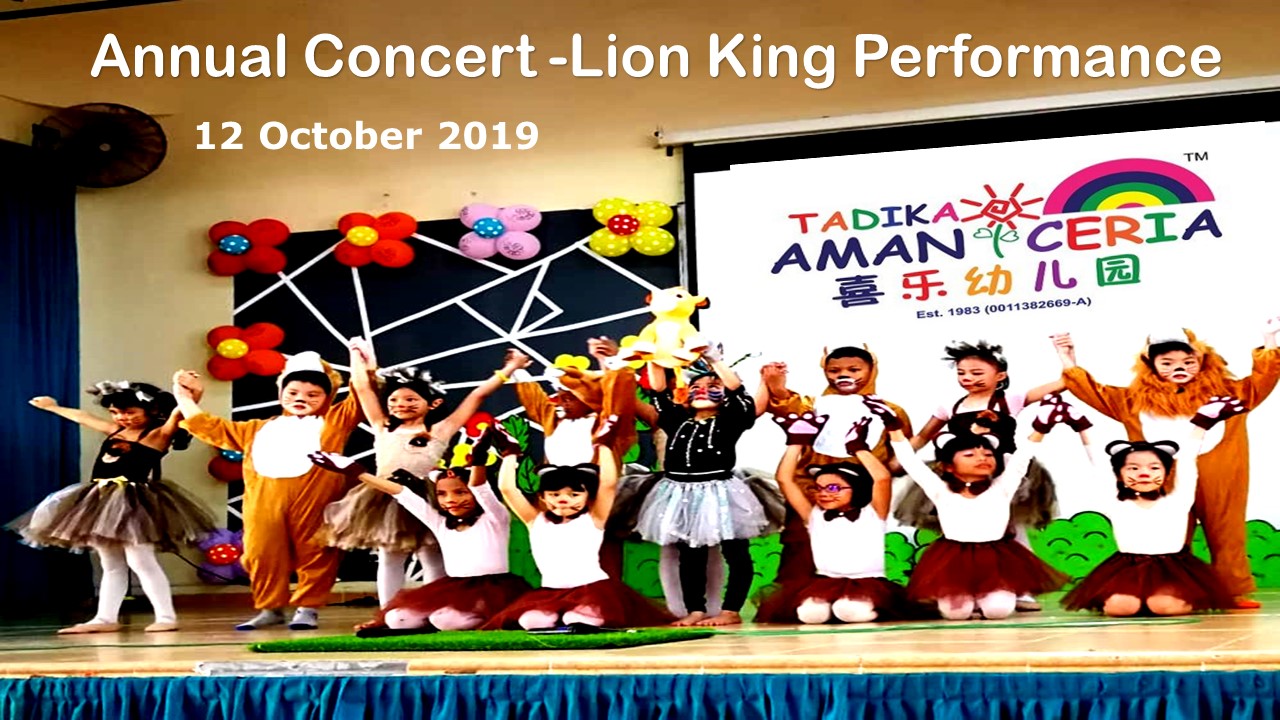 TESTIMONIAL
One of the most important decisions we make as parents, is to select a school for our children's preschool education. If you want your child(ren) to be in a friendly, warm and loving environment both physically and academically then Tadika Aman Ceria is exactly what you are seeking for.
The teachers are experienced and dedicated. Fostering a learning environment that is fun and meaningful through creative activities such as hands-on cooking, art projects, dramatic performances, holiday camps and many more.
Both our sons had great experience there, to this day they are very comfortable with the teachers and also Mrs. Law for the love they receive.
We are so impressed with the progress shown by our little girl since attending TAC. She has really flourished and loves her school so much. She is always eager to attend school every morning. We are ever so grateful for Tadika Aman Ceria, as this is where all our children excelled in their early education.
Thank you.
Mr and Mrs Malkeet S Mehal
REGISTRATION 2ND SEMESTER 2023


We welcome you to enrol your child in our programs, for a Solid Educational Foundation! We are committed to developing children learning skills so that they can be outstanding achievers.
We invite you to inquire about our school and schedule a visit
Kindergarten Session ( Child Age 2-6 )
Time: 8:00am - 11:30am
Student Day-Care Program ( Child Age 2 - 10 )
Time: 7:30 am — 6:00 pm
Visit our school any time & during School holidays
Make an appointment before coming
Call 03- 410 70 261 / 016 2345 726
OFFICE OPERATING HOURS 8:00am - 5:00pm
Open Monday – Friday ( Include School & Dec. Holidays )
Public Holidays- Office is closed
email: amanceria@yahoo.com