Innovative Educational Programs




Playschool (2– 4 yrs. old)

Playschool children ages 2 years to 4 years. Play-based learning with enriched learning materials help children develop language skills, number skills, practical life- skills, sensory motor skills, language skills, basic science, music+ movements, physical agility, safety and self-help skills.

Our programs stimulate creativity and aesthetics through activities like art, craft, dance, thematic projects and other cultural events. Activities such as role play, water play, nature walk, blocks manipulative play enhance their learning.

We emphasize the importance of developing good moral values at a young age such as honesty, integrity, truthfulness, initiative, and responsibility. What children learn from character education will be useful to them as they engage and interact with other people in society.

The children develop and learn:
• Creative Art & Crafts
• Practical Life Skills
• Sensory Motor Skills
• Language English & B.M.
• Number Skills
• Basic Science Skills
• Character Education
• Music & Movements
• Musikgarten (USA)
• Physical Education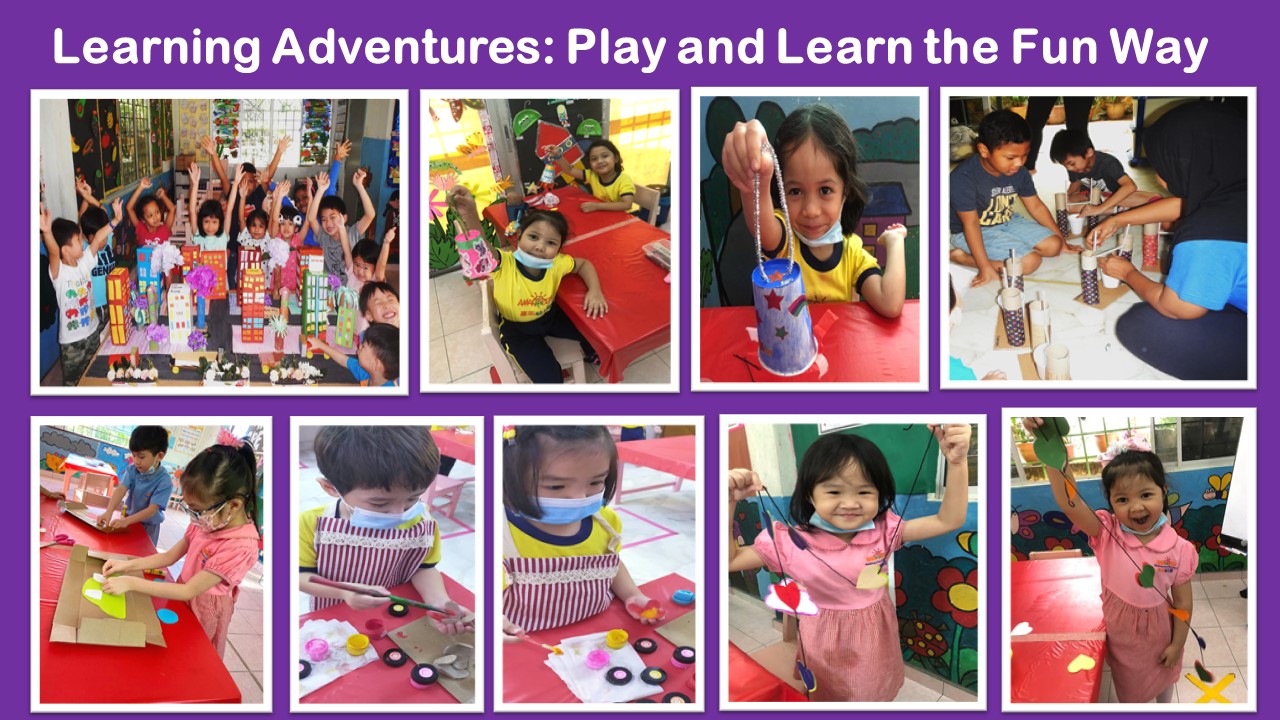 KINDERGARTEN (5 - 6 yrs. old)
Kindergarten programs focuse on the mastery of reading, writing and arithmetic. Activities like roleplay, nature walks, water play and cooking are integrated into the curriculum to support learning. Children are also engaged in extracurricular activities like art, craft, dance, and music to help them discover their natural talent and abilities.
Thematic lessons have been incorporated into the curriculums to widen the children's topical knowledge and language while providing hands-on learning.

Lessons covered are:
• Thematic lessons and Literacy Skills
• Languages - English, B. Malaysia, Mandarin
• Number Skills, Mathematics, Abacus
• Musical Skills (Musikgarten, USA)
• Computer literacy (New Phonics Series)
• Character Education - Care for Self and Others
• Personal Safety, Social and Emotional Skills
• Physical Education, Motor Skills
• Aesthetics and Creative Expression
• Discovery of The World Activities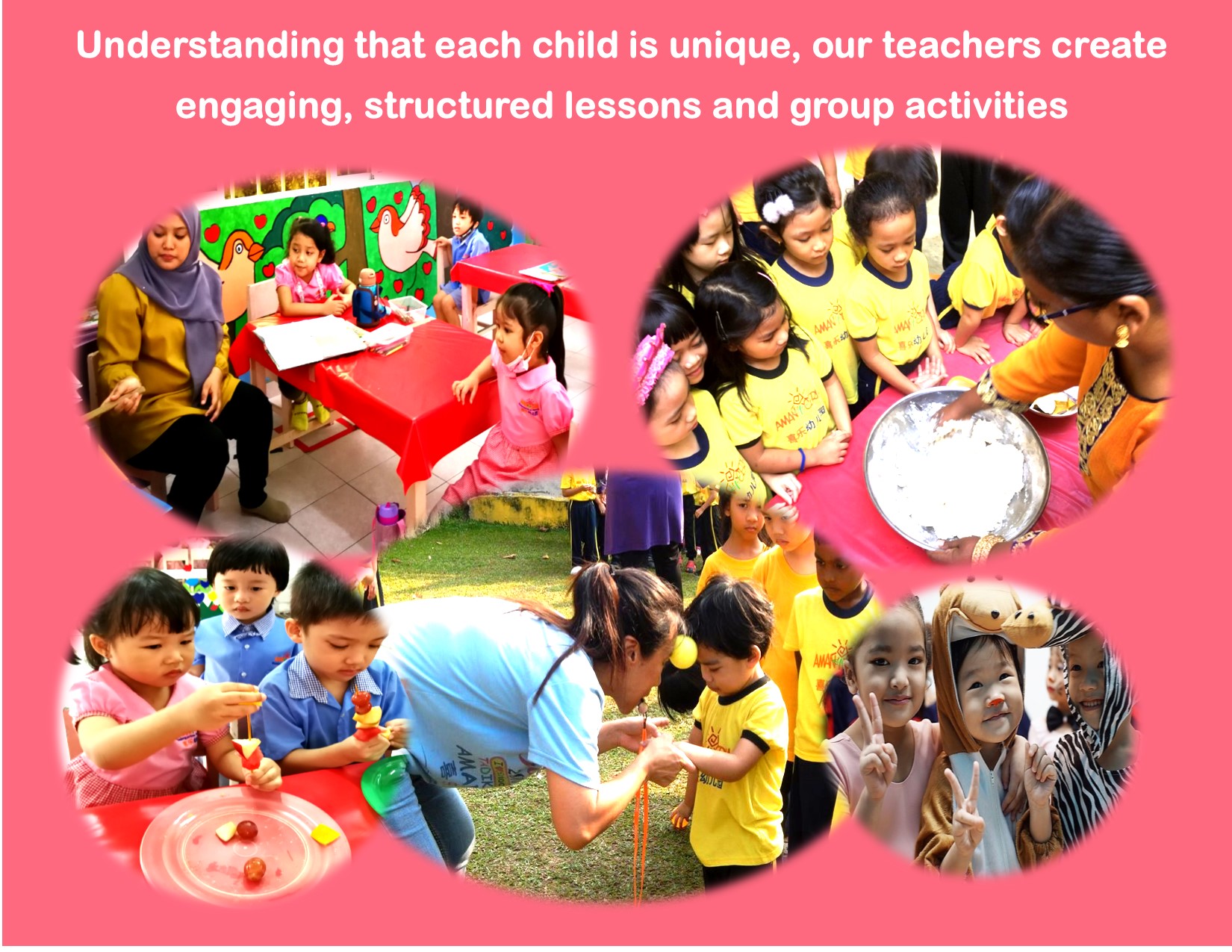 Our teachers use different teaching methods, tools, technology to engage students of all learning styles and skill sets. They understand the development needs of the children and guide them through...

* Cognitive development
* Language and communication
* Physical and creative expression
* Initiate positive behavior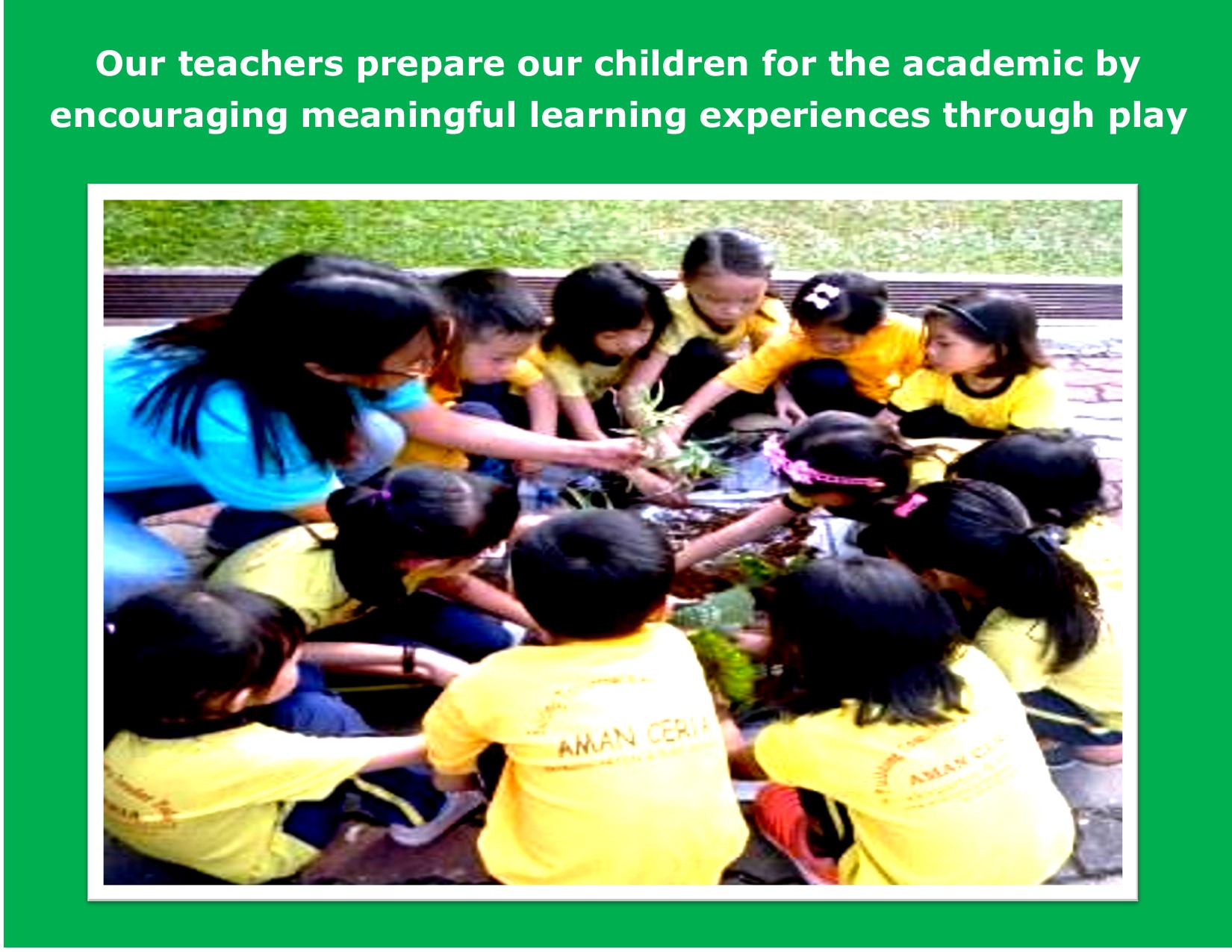 Individualized Attention
The small teacher to children ratio creates a suitable environment for interaction, allowing children to comfortably learn at their own pace.
Teachers will also be able to easily identify the strengths and weaknesses of each child. Our proactive teachers are always looking into new ways of helping children to fully develop their full potential.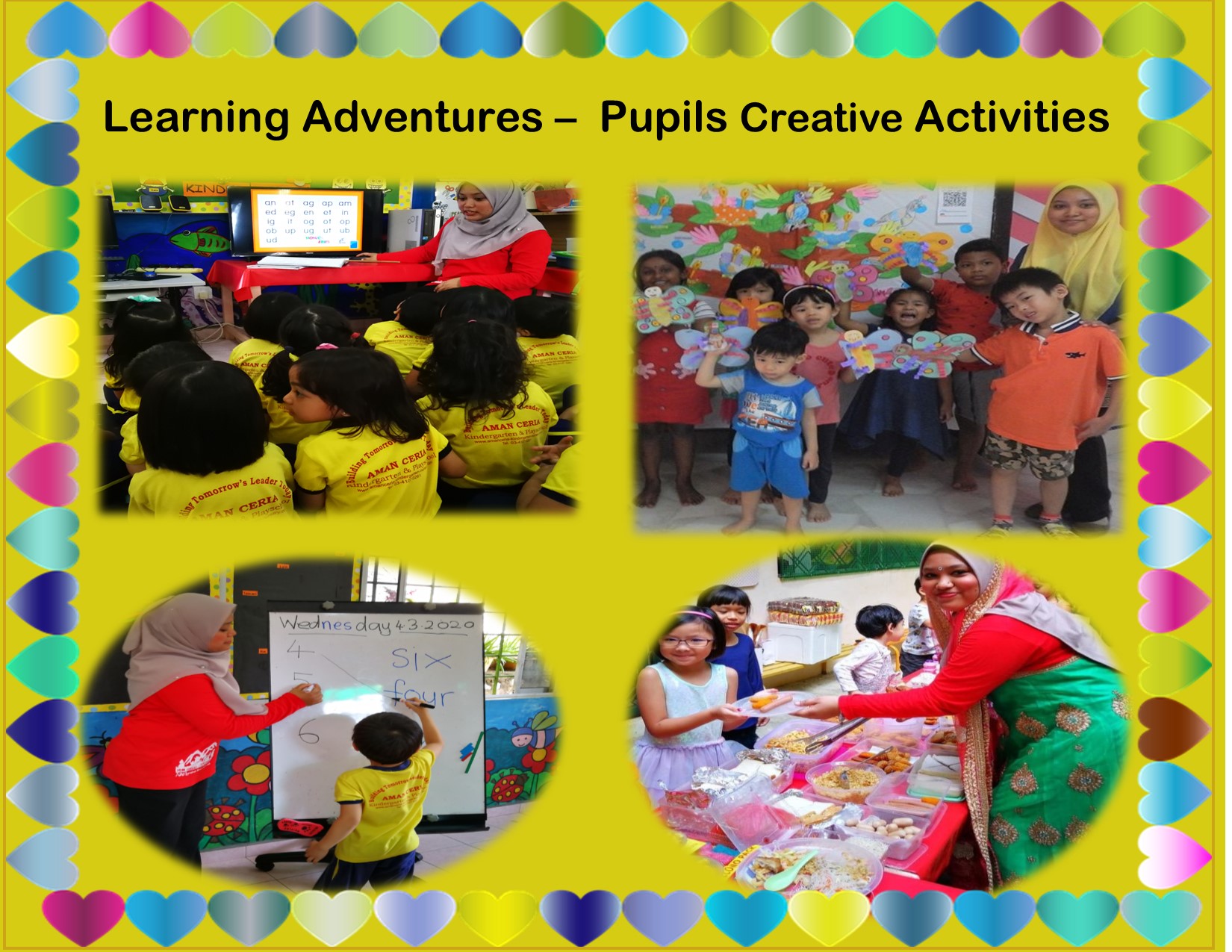 Speech & Drama Holiday Program
Include singing, listening, rhythm patterning, exploring percussion instruments and musical drama.
• Speech and drama allow children to communicate, articulate, and express themselves in a natural and positive way. Boosts confidence to carry on a conversation.
• Children develop social skills, overcome shyness, build self-esteem, leadership skills, increase the ability to adapt and improvise.
Career Opportunities - Join Our Dedicated Team:


We may be looking for outstanding individuals to join our Kindergarten in the following positions:

• Class Teacher and Assistant Teacher
• Mandarin Subject Teacher
• Daycare Assistant and Cleaner

If you share our vision of fostering children's learning and personal development. You have the fervent aspiration and dedication to educate, join us on our journey to excel together.

Applicants must be:
* Qualified experienced kindergarten teacher or child care worker
* Healthy, energetic, caring and patient with children
* Creative, hard-working and committed to early childhood education and childcare

Interested applicants are invited to submit their C.V. detailing the position applied for to amainceria@yahoo.com and shortlisted candidates will be contacted for an interview

email: amanceria@yahoo.com
Call : 03-41070261/ 016-2345-726 office hour