Choosing Quality Child - Student Care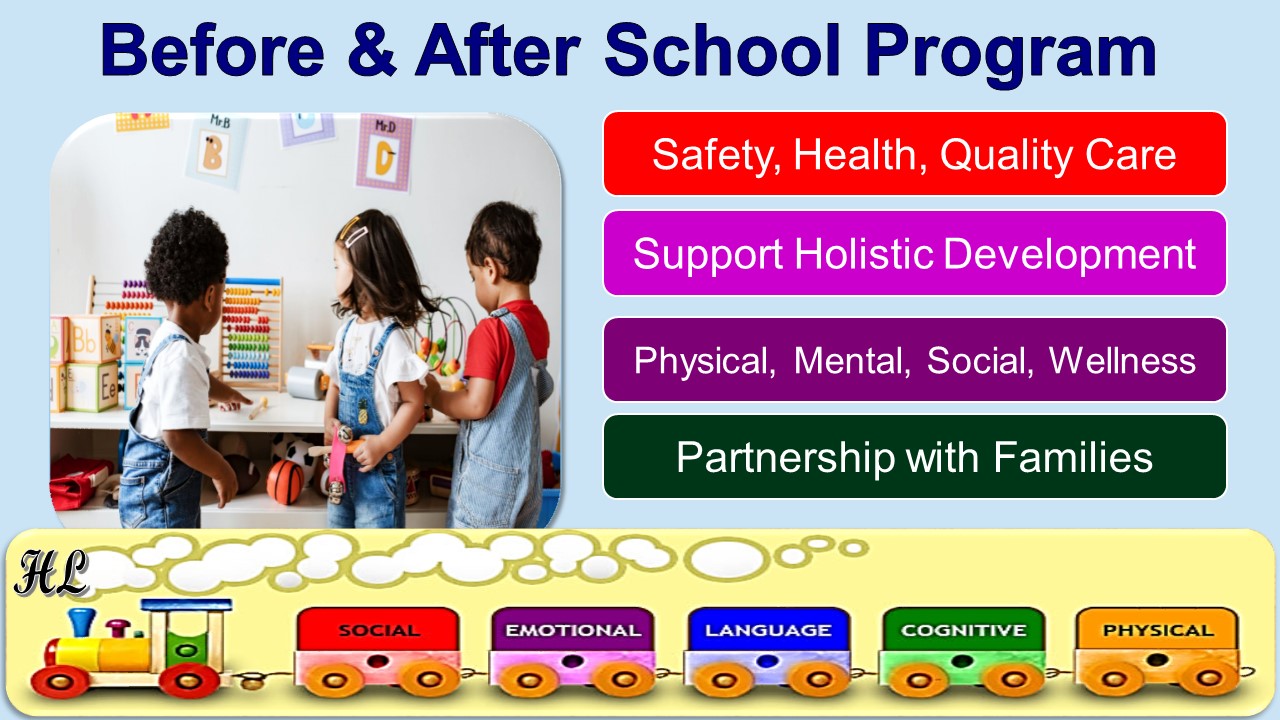 Before & After School Program

We provide a safe, supportive, and caring environment and enriching program that's convenient, credible and affordable as part of our service to the community.

We maintain a warm, respectful, trusting relationships with parents and families. Reducing the numbers of latchkey children. Whether you are looking for one day or five days, we will be able to work with you to provide a solution to meet your needs.
Security - Children are not allowed to leave school unless special permission is taken from the school office. This is a safety precaution and aims to protect your children.


Health & Hygiene - nutritious meals, healthy snacks, personal hygiene, physical activity, and cosy sleeping area. Encourage hygiene habits such as washing hands before eating, keep face clean and hair tidy.


Recreation- healthy spaces to play and relax. Children learn self-care skills, play and interact with adults and other children.


Caring Staff planned variety of supervised activities including a quiet area for the completion of homework.

Enrichment nurturing children's potentials and talents such as art, music, ballet, drama, multimedia


Field Trips visit places, meet people, see and experiencing first hand knowledge

Holiday Camps combine fun and exciting adventures. Children learn new techniques to increase intellectual ability. Develop positive self-esteem, creative and critical thinking, problem solving skills


Backup Child Care when your caregiver or babysister is off duty, you can depend on us to care for your child/ children.


Prepare your child for the childcare experience
Prepare your child by explaining how enjoyable the experience at the childcare centre will be.

Emphasise that it will be fun to meet other children, make new friends, see a new place, play with new toys and learn new things.

To familiarize your child with the centre, arrange to bring him/her for one or two brief visits.

Should I accompany my child in the Centre?


It is advisable that you accompany your child for only a few days and not more than a week.

Once your child begins to interact with other children, leave and allow him/her to settle down on his/her own.

Your continued presence may make the adjustment difficult as your child would become dependent on you.


Is normal for children to cry when they are new in a childcare centre.
This is perfectly normal as children are placed in a new environment and often fear that their parents will not come back for them.

Reassure your child that you will pick her/him up after your work. Your child should become familiar with the daily routine.

How long does it take for my child to adjust?
The time frame for the adjustment varies for each child.

A great deal depends on your attitude as a parent.

If you are happy and confident about the arrangement, your child is more likely to settle down easily and faster.

What should I do if my child refuses to attend the centre, or has fears and nightmares about going there?

Be calm and direct with your child and talks about all the fun he/she will have.

Reassure your child that you will pick him/her up after your work.
If your child continues to be distressed, talk to the teacher and discuss ways to help your child to overcome his/her fears.


As far as possible, avoid changing childcare arrangements too frequently as this will be unsettling for your child

What are the benefits of before / after school program?


The program allows children to balance learning and fun through a variety of experiences. from homework support to fun physical activities.


• Nutritious hot meals and Healthy snacks
• Comfortable, cozy sleeping area
• Dedicated and caring staff. Low child-to-staff ratio
• Safe and well-designed indoor and outdoor spaces
• Holiday camps and educational trips
• Homework support and fun physical activities.
• Holistic environment that strengthens social skills

To Your Parenting Success