TAC Holistic Development In Early Childhood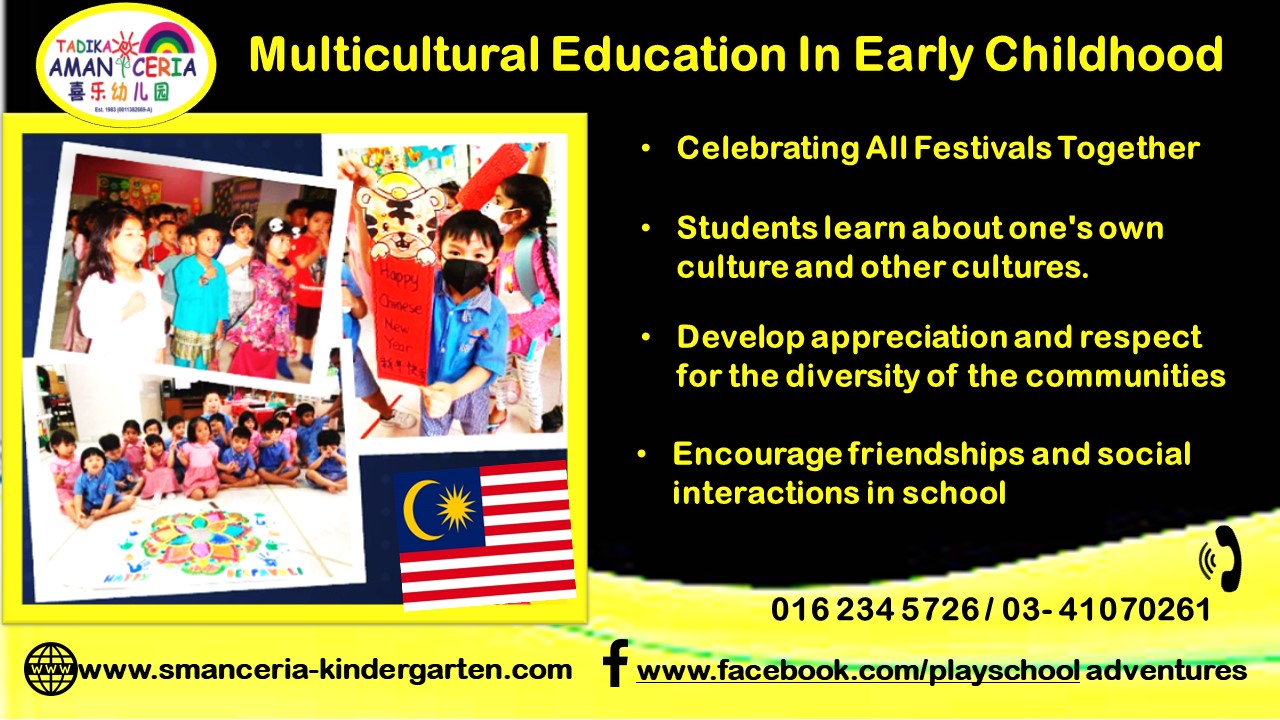 Holistic Child Development of the Whole Child


Teaching our children about one's own culture is paramount. It is also important for them to learn about other people's cultures as well. Exposing them to other people's cultures help develop children's tolerance and appreciation of cultural differences and diversity. This is important in today's diverse society.

Children learn to appreciate all kinds of differences - not just racial and cultural but also the differences in socioeconomic levels, and disabilities. They become aware that individuals and families may have different spiritual or religious beliefs and these differences should be respected. Spirituality is a state of connectedness to all life, honouring diversity in unity. Teaching our children to forgive others is the best way to achieve peace of mind and live a stress-free life.

Nurturing the Whole Child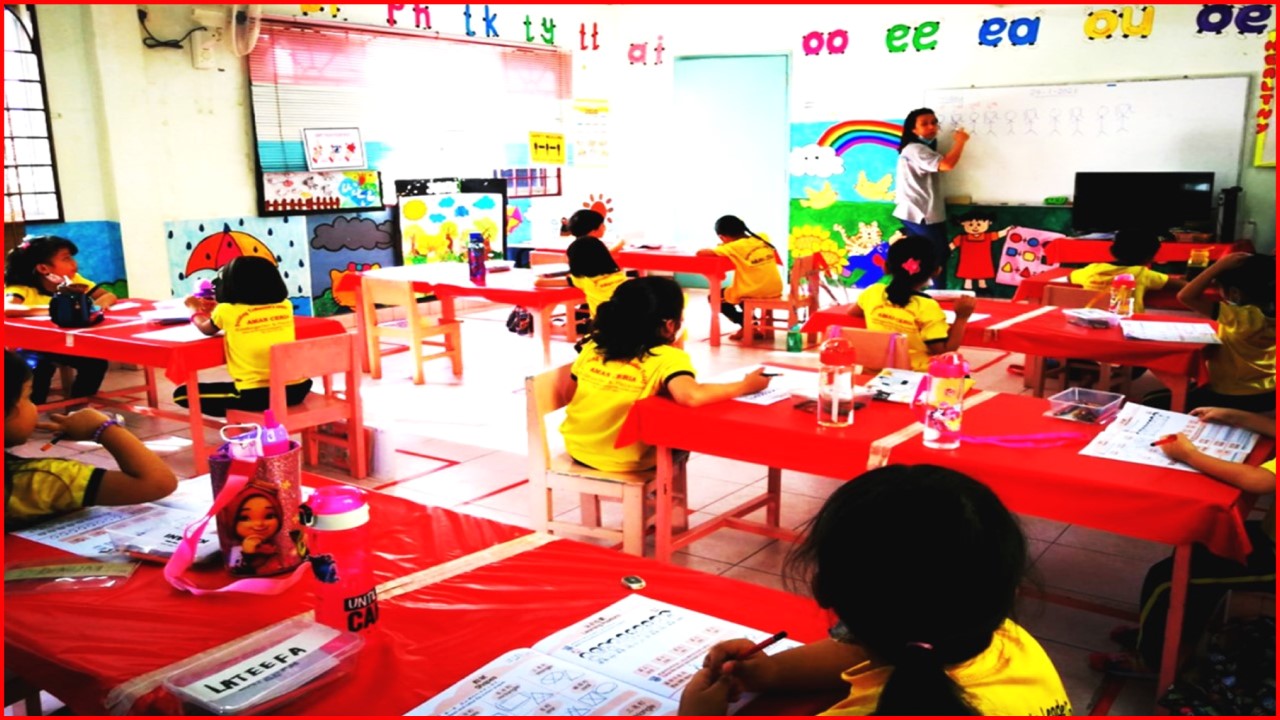 TAC supports the holistic development of the whole child through an integrated approach to learning.

Provides an enriching, nurturing, effective play-based learning environment helps children develop social skills, motivation to learn, language and numeracy skills.

Facilitate personal and social development through the promotion of co-operation, responsibility, self- confidence, self-discipline and healthy habits.

Inspire children to develop a sense of aesthetics and appreciation of culture through art, dance, drama, music, and stories

Encourage the natural, insatiable curiosity of the children to expand their growth mindset with the feeling of universality.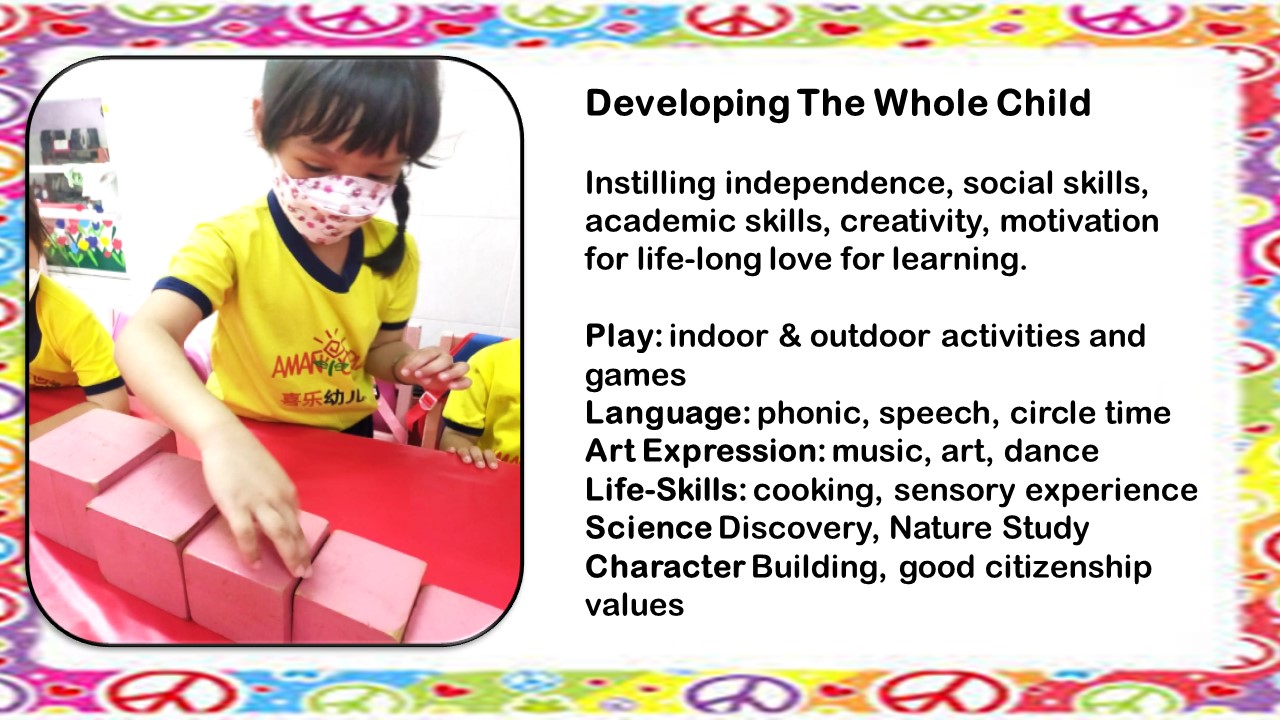 Fun Physical Activities Is Important To Child's Development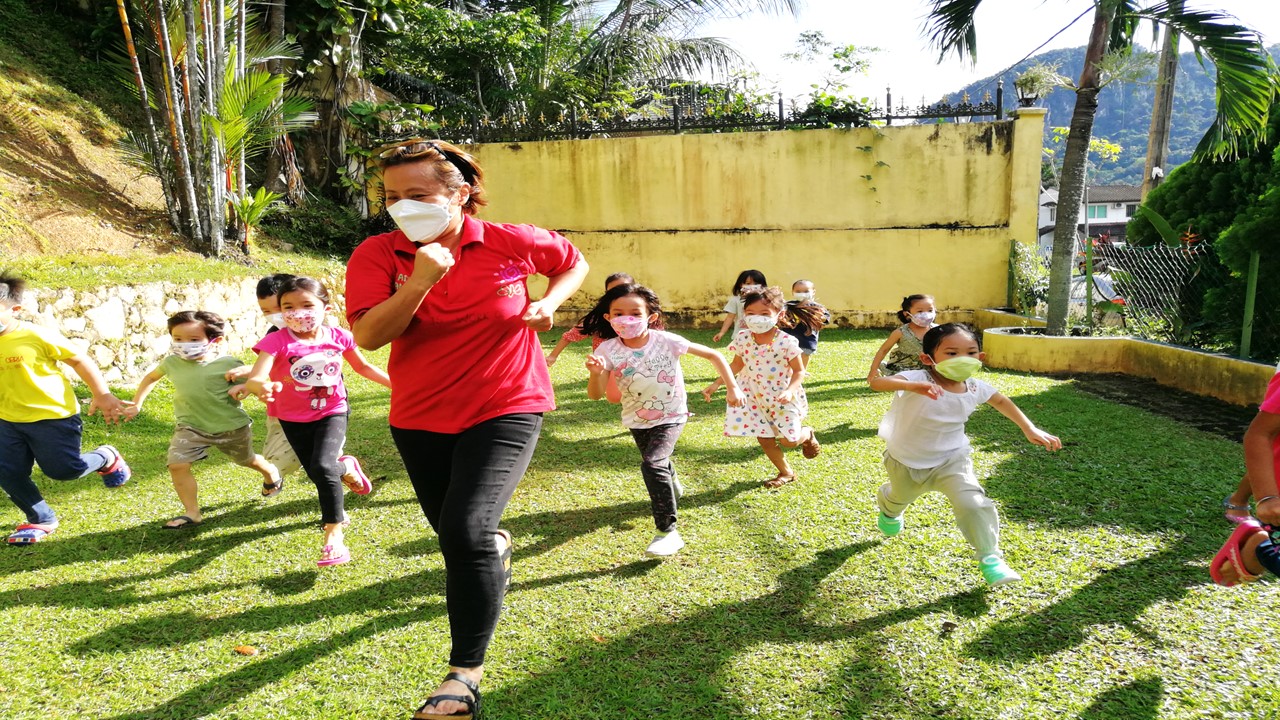 We support all areas of the child's development

Practical Living Skills- Cooking, gardening, washing, folding, wiping, pouring, cutting with scissors knife, sweeping, mopping.
Self - Awareness and Self- Reliance: Social relationships, grooming, social, graces.
Awareness of Surrounding: Personal safety and physical education
Language (Literacy): Oral communication(English, B.M. Mandarin), reading, drawing, writing,
Mathematics on exploration and investigations: Number sense and numeration, measurement spatial sense, patterning.
Science and Technology: Early science skills, exploration investigation, experimentation, computer literacy
Creativity and Aesthetics: • Visual arts • Musikgarten (USA) • music, drama and dance
Health and Physical Activity: Personal safety skills, sensory motor skills, health and well -being, physical agility and activity.
Character Building impart a culture of good character, social responsibility and values. Emphasized citizenship values such as honesty, integrity, truthfulness, initiative, and responsibility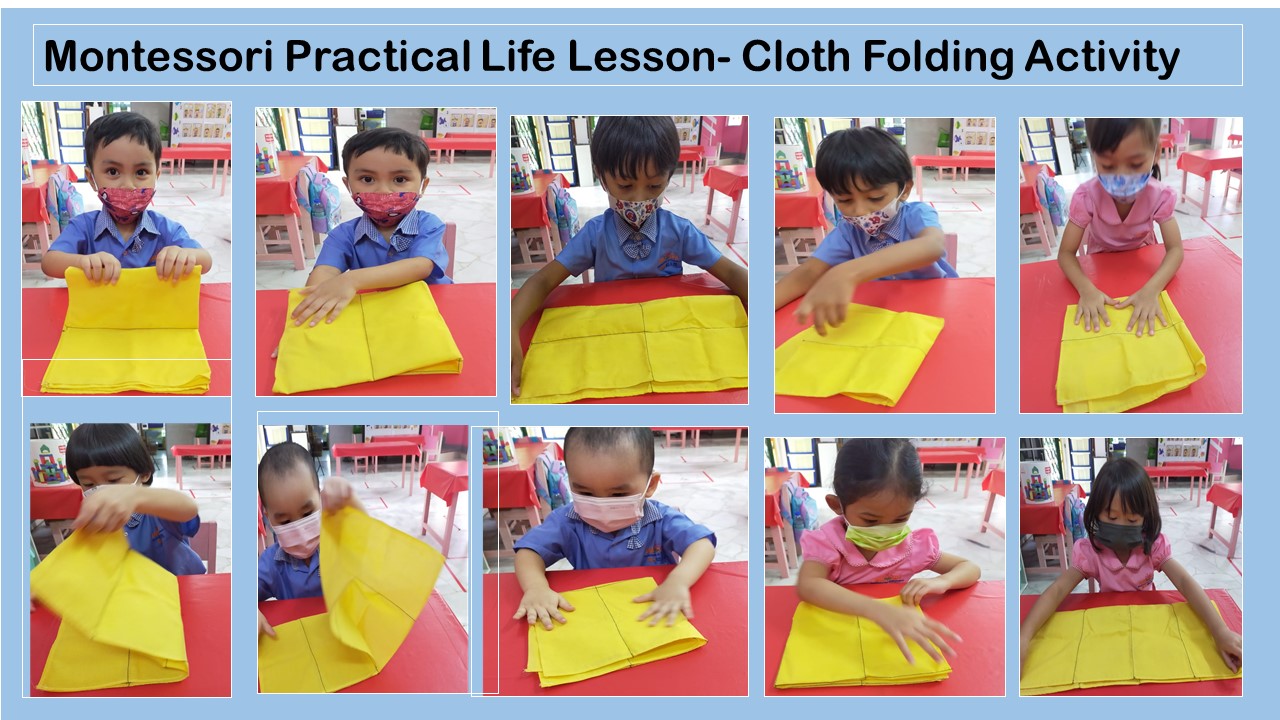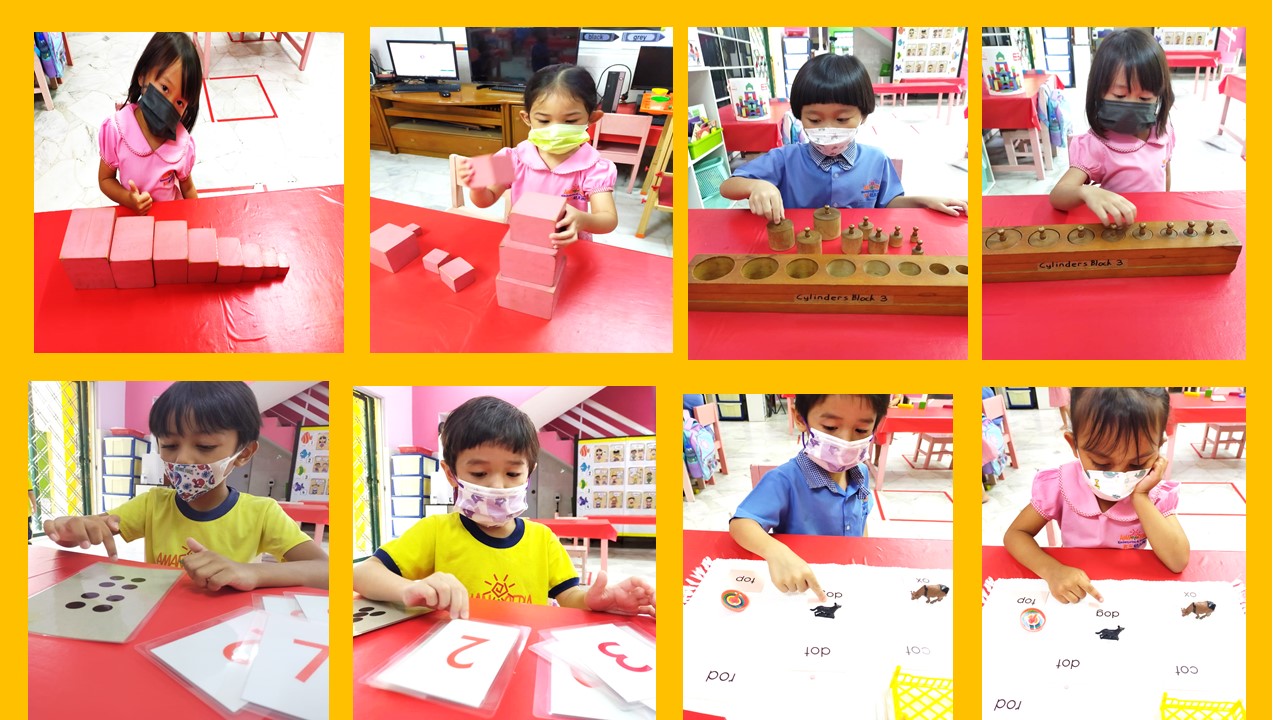 Strong Foundation For Academic Growth & Personal Development
Development of the whole child follow their interests and ensure that their interests are supported and nurtured.

Focusing on social and communication skills as well as a positive attitude to help children achieve independence.

Language and literacy skills aim to nurture early childhood trilingualism, English, Bahasa Malaysia and Mandarin. Children understand and communicate through listening, talking, reading, and writing.
Creative Science Experiment: Balloon inflator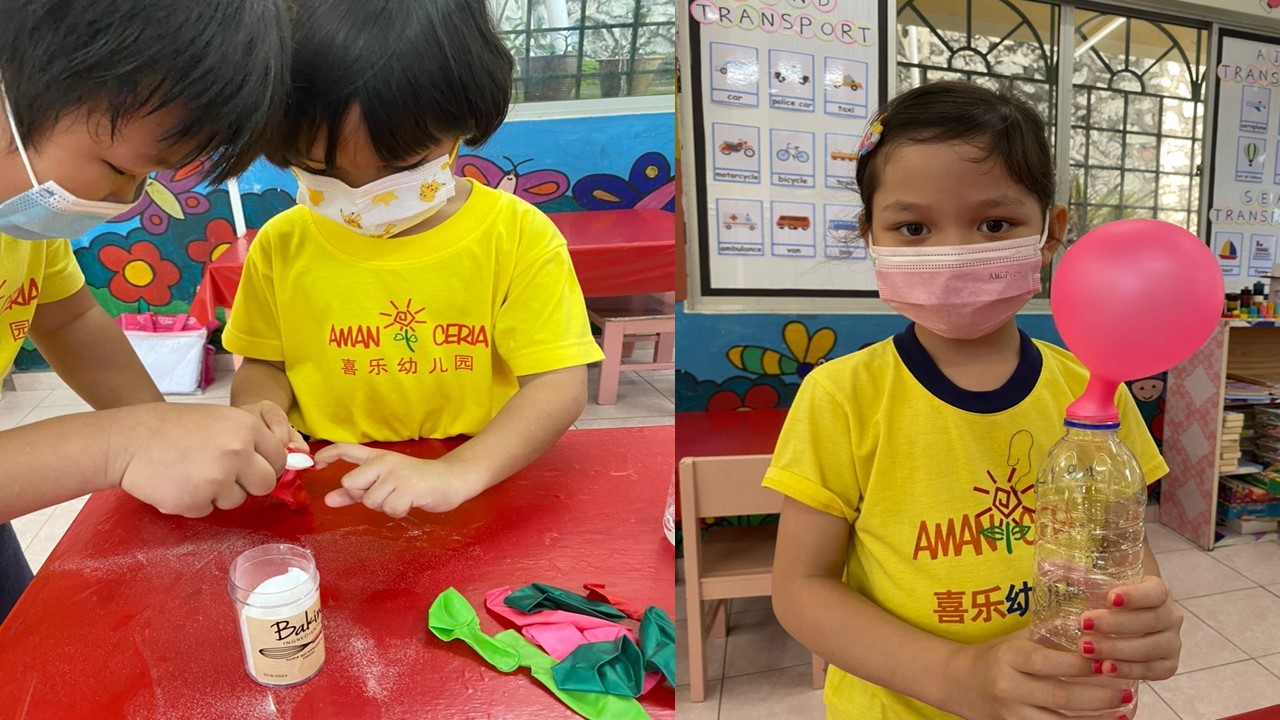 Ball Ballancing: Hand-Eye co-ordination games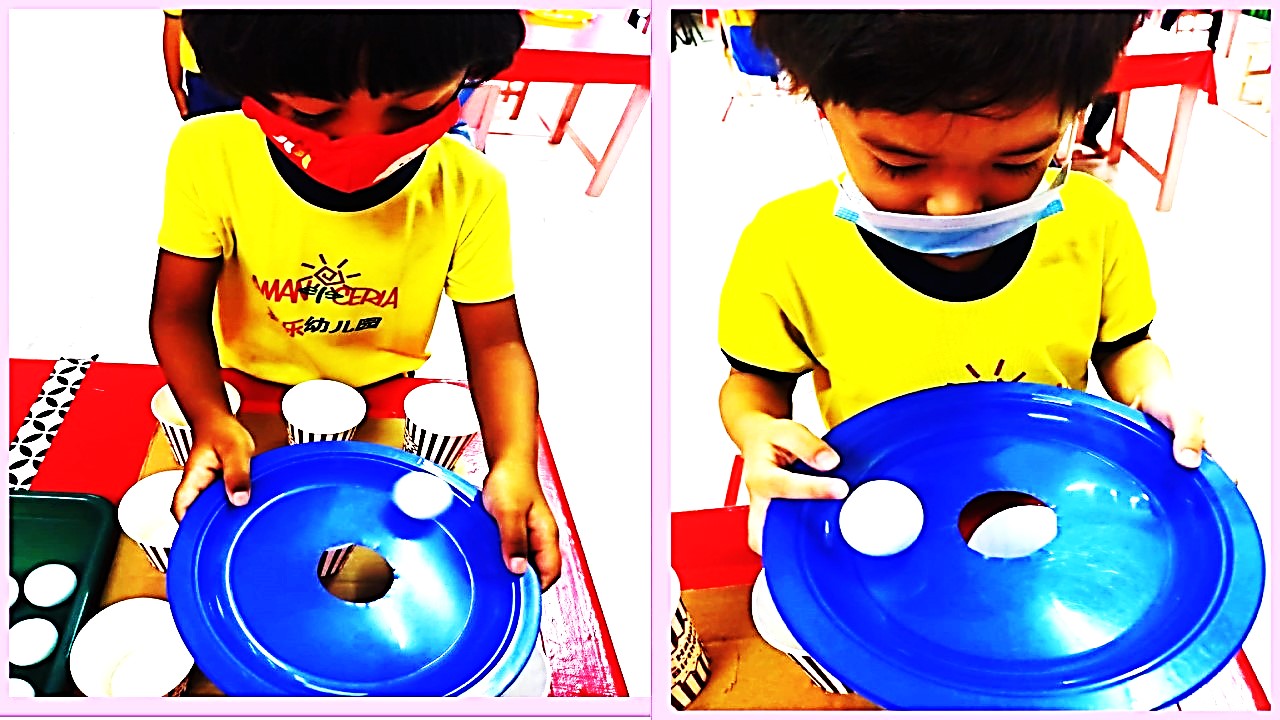 Blocks building and Reading 3D pop-up story book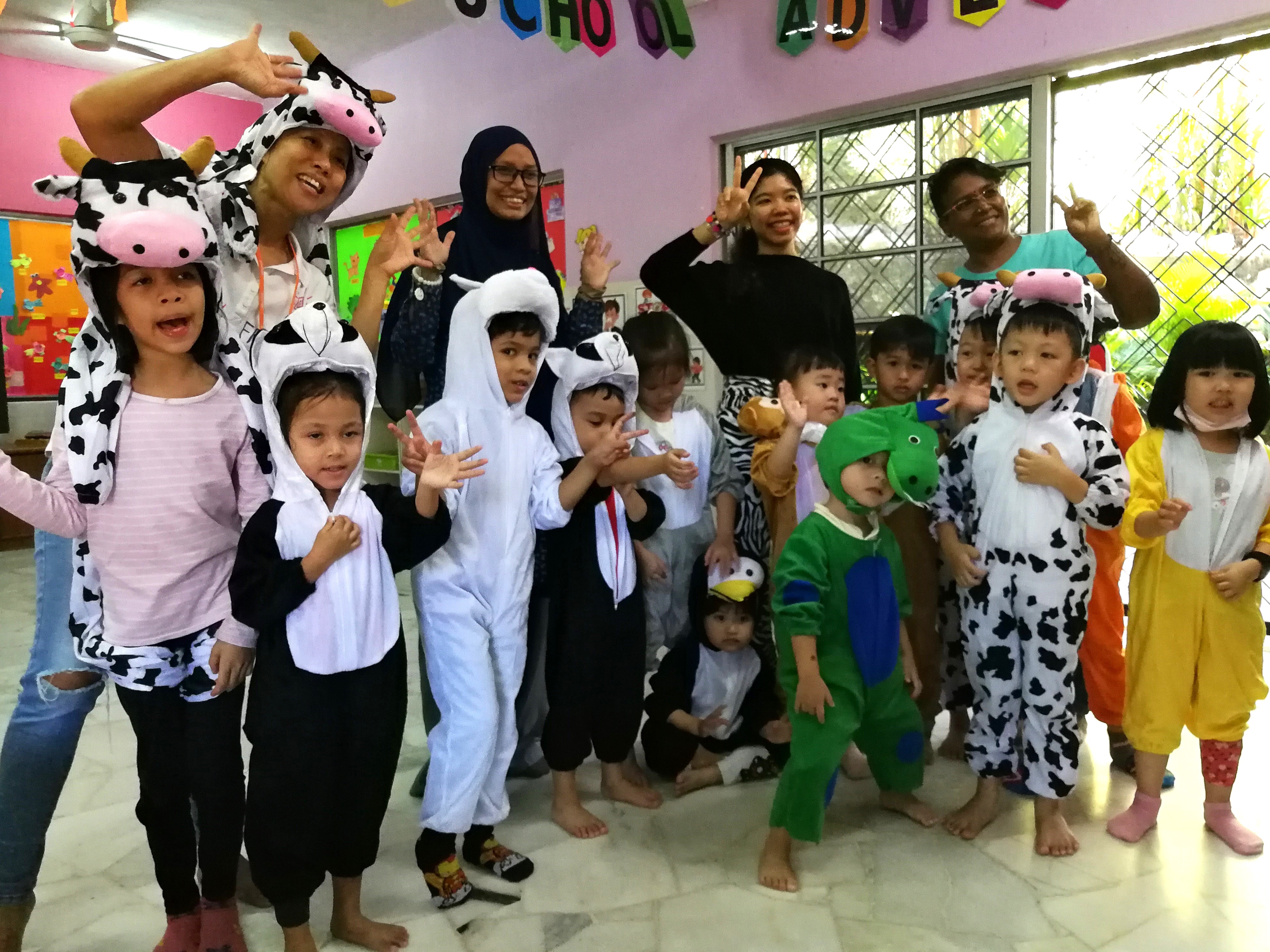 Math Games: Count by 5 and 10. Find the missing number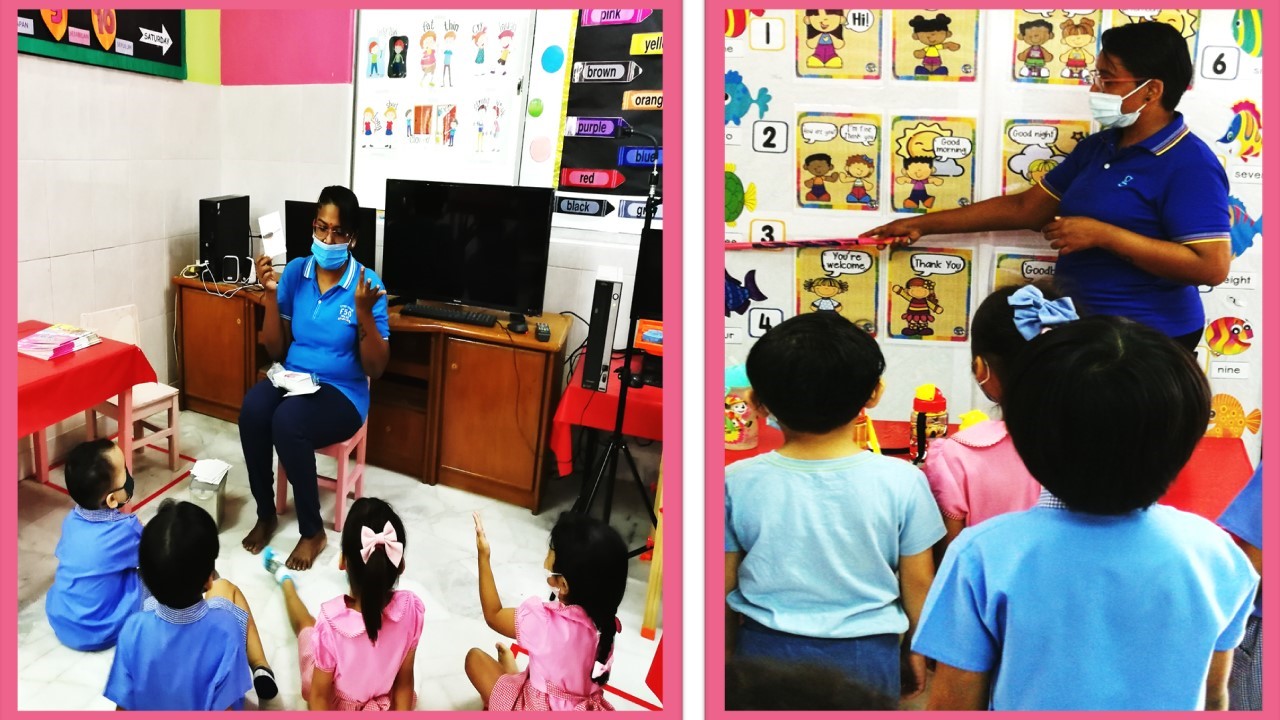 Cooking Activity
Reinforce learning and enabling children to be confident learners.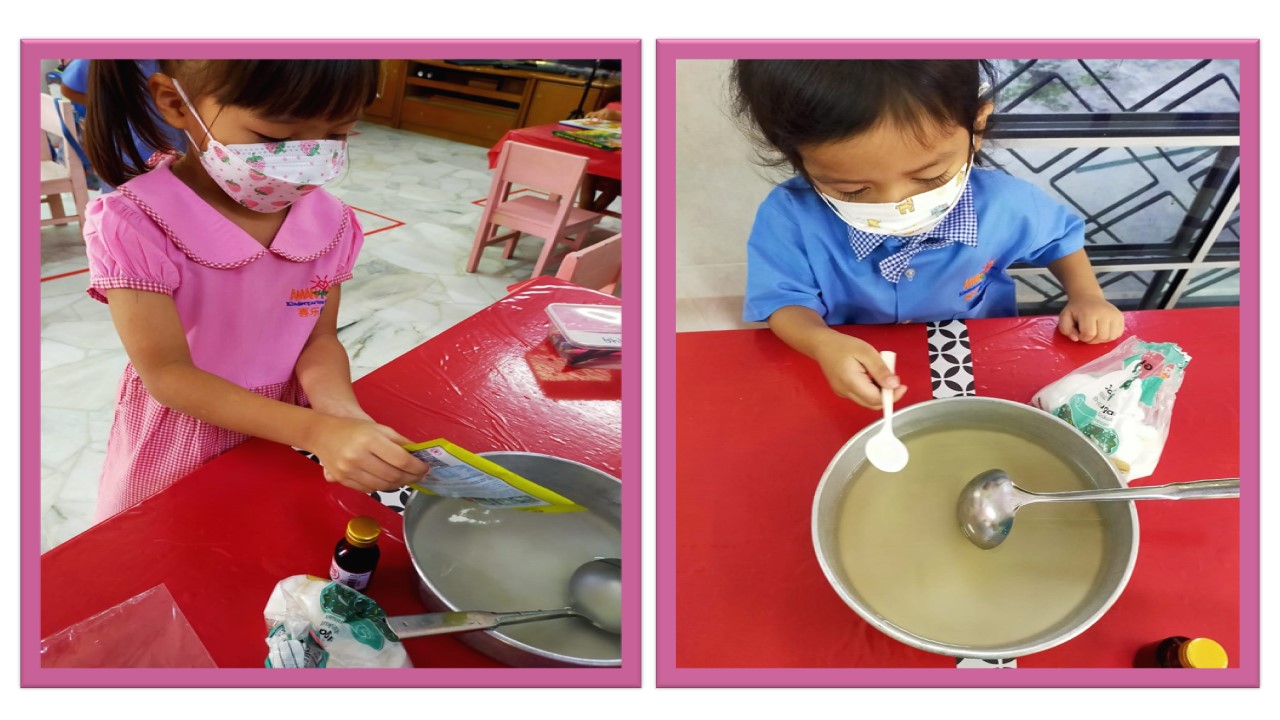 Children enjoyed the Pencil Wafer Cookies, they made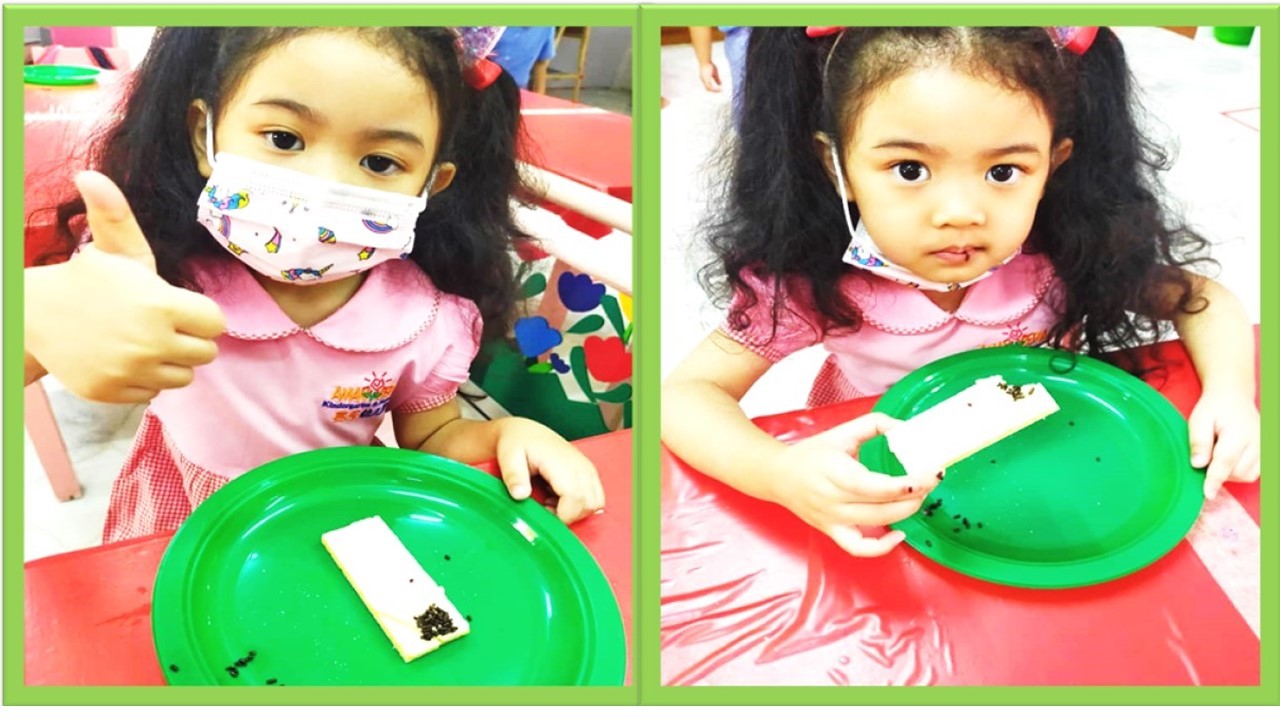 Classes are organized around interest areas or learning centres. Children play, explore with the guidance of their teachers either individually or in small groups.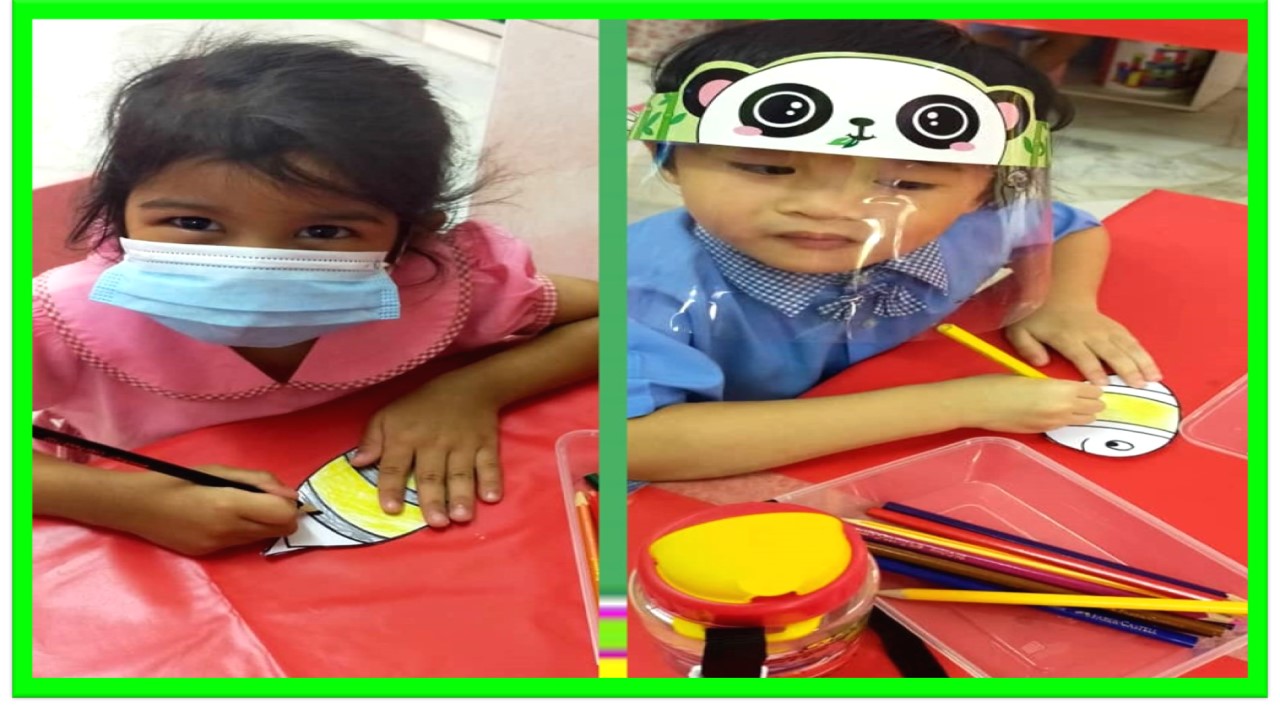 Play stimulates the child's innate curiosity and encourage language development, confidence and awareness.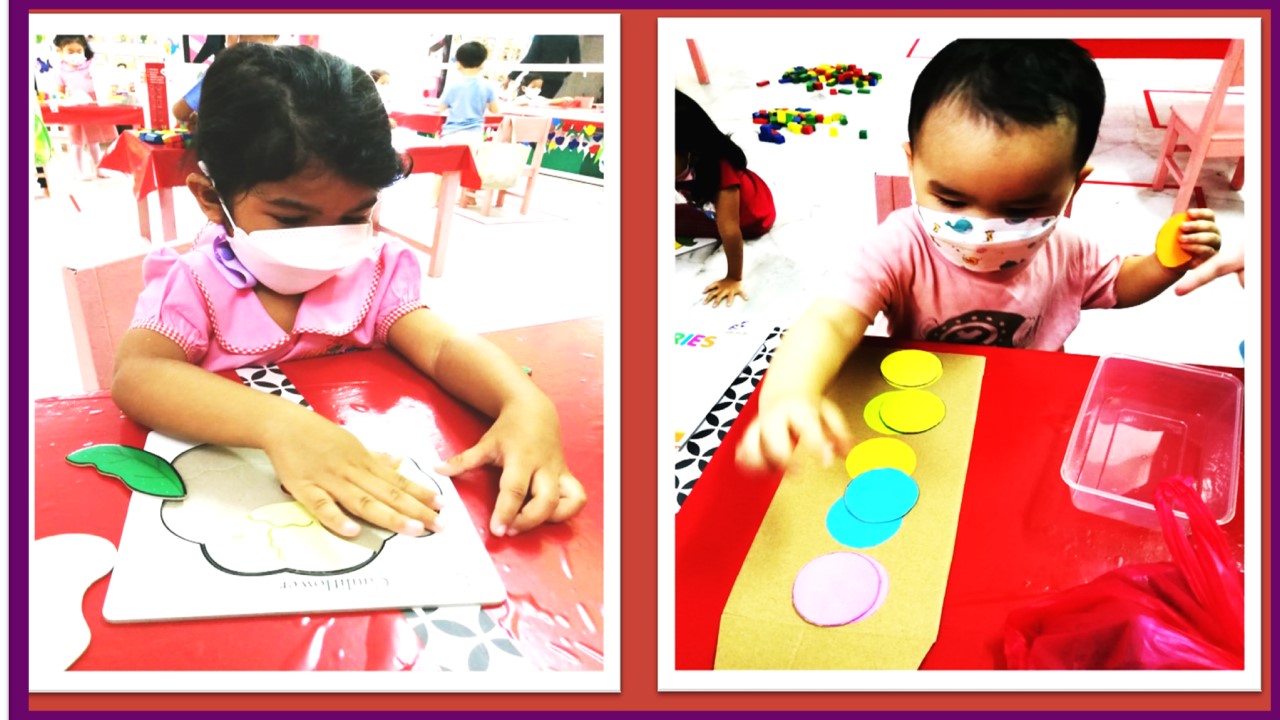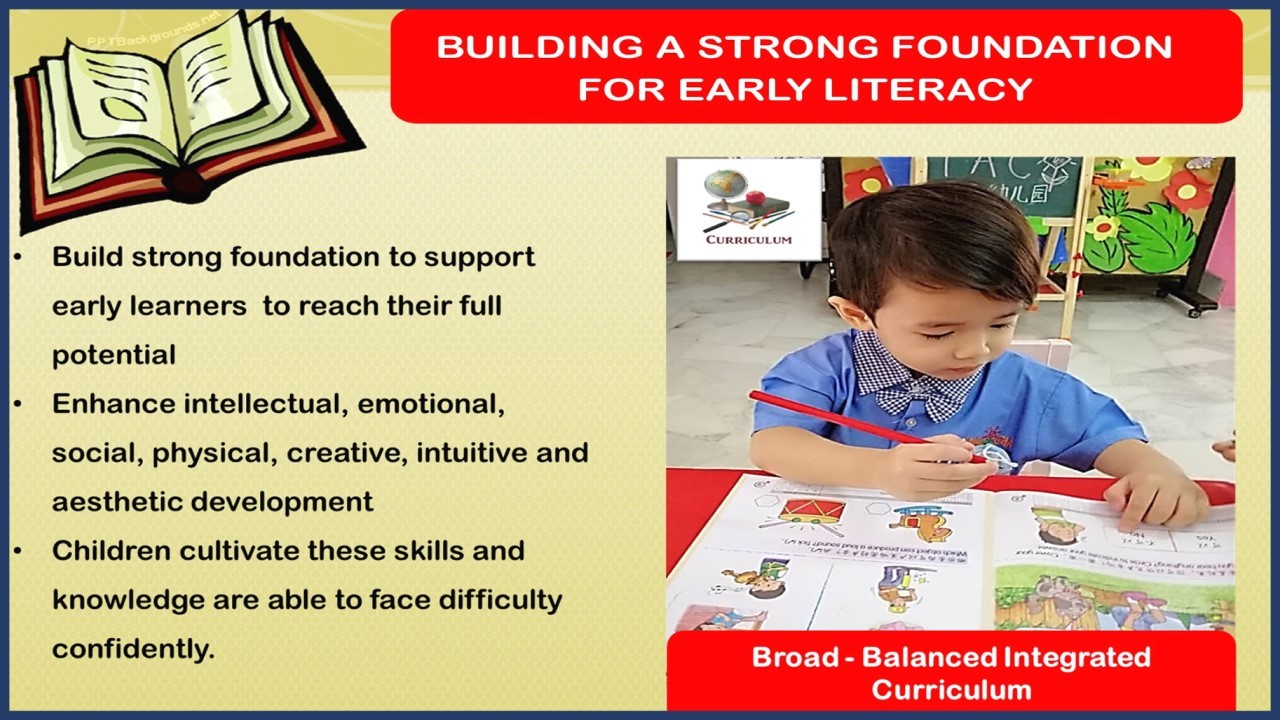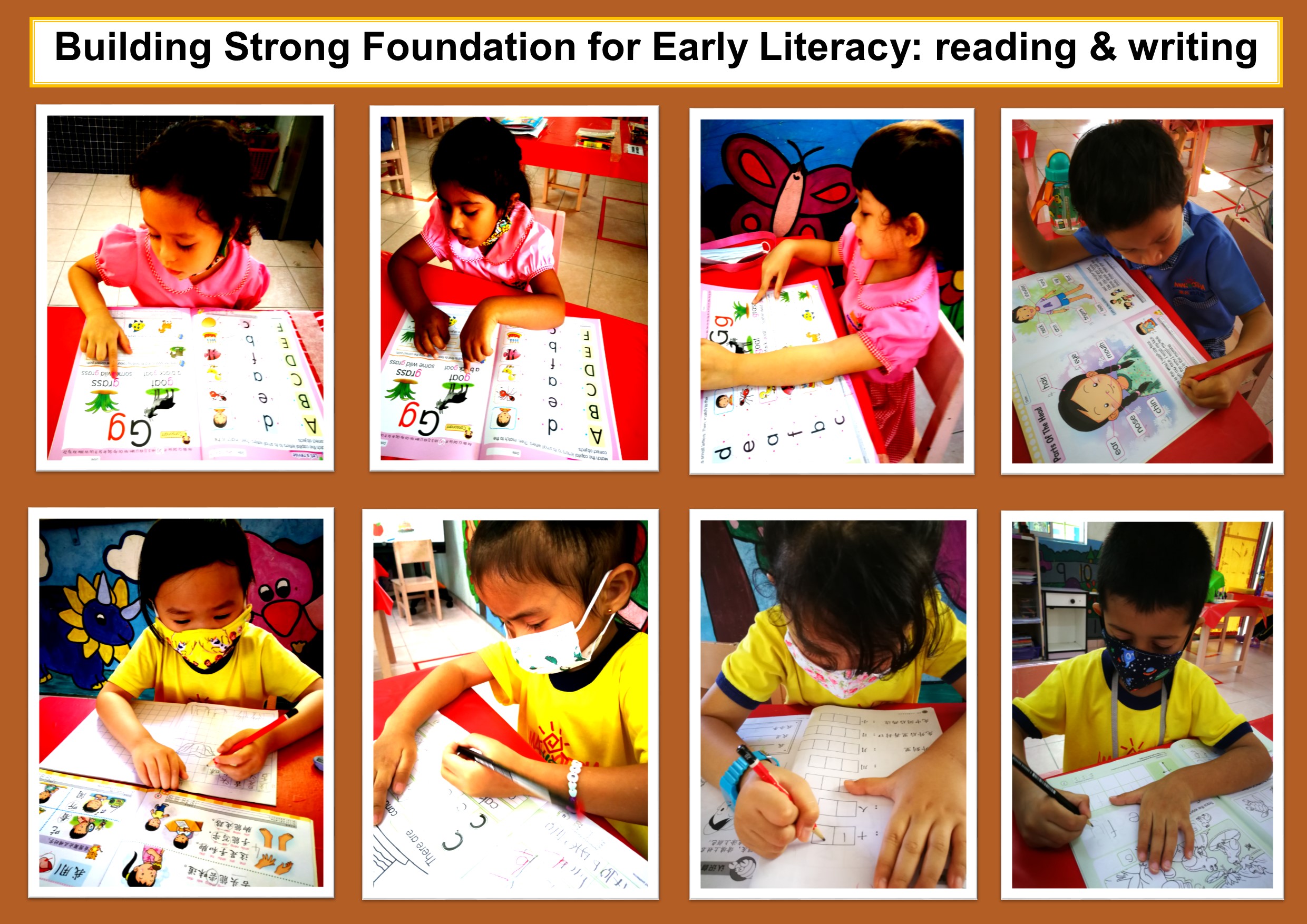 In Our Nurturing Environment

Children play and learn alongside with others develop a variety of skills and knowledge in subjects which build strong foundations in mathematics, science, English, Mandarin, Bahasa Malaysia and social skills.


TESTIMONIAL

Pn. Nurul Nadzirah Testimonial

Faiha's mom
Sending my daughter to TAC is an investment well spent. We did compare few other kindergartens, but we fell in love with the huge field and playground, and TAC methods of teaching. Faiha initially was very shy but has changed for the better.

The teachers are always patience towards students. That's one thing i admire most. Everyday when i pick Faiha up i always asked her how's her day. She would tell me what she did, what she ate, if she completed her work, what games she played , even the silly funny dance. That's when i know she's happy, safe and learning well. Tq teachers for being so kind to Faiha.

We still drive around TAC every weekends coz she misses her teachers and friends. I plan to send my son to TAC in a few years to come too❤️❤️